Meet Lyn Cote, Wife, Mother, Author
2015
You Can Add Grandma to that and Hybrid Author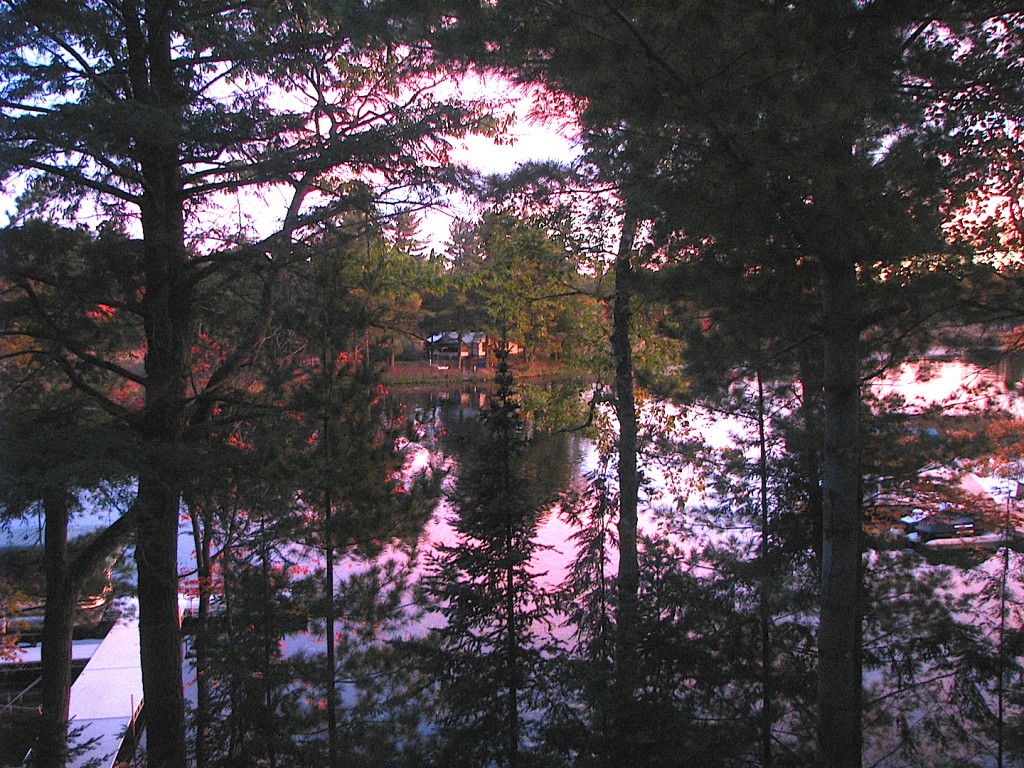 Dawn at the Lake
Have you noticed life does NOT STAY THE SAME?
We have a grandchild now and I'm not only writing for traditional publishers, such as Harlequin and Tyndale House Publishers, but I've also begun self or indie publishing books i've written that have either reverted to me or ones that publishers didn't think FIT THE MARKET.
It's an exciting adventure, putting up books myself. But I still like to work with publishers too. So that's what it means to be a hybrid author.
You all know what it means to be a grandmother! 🙂
And my husband and I are still enjoying living on the lake in the woods. What do you think of that pink dawn?–Lyn
2014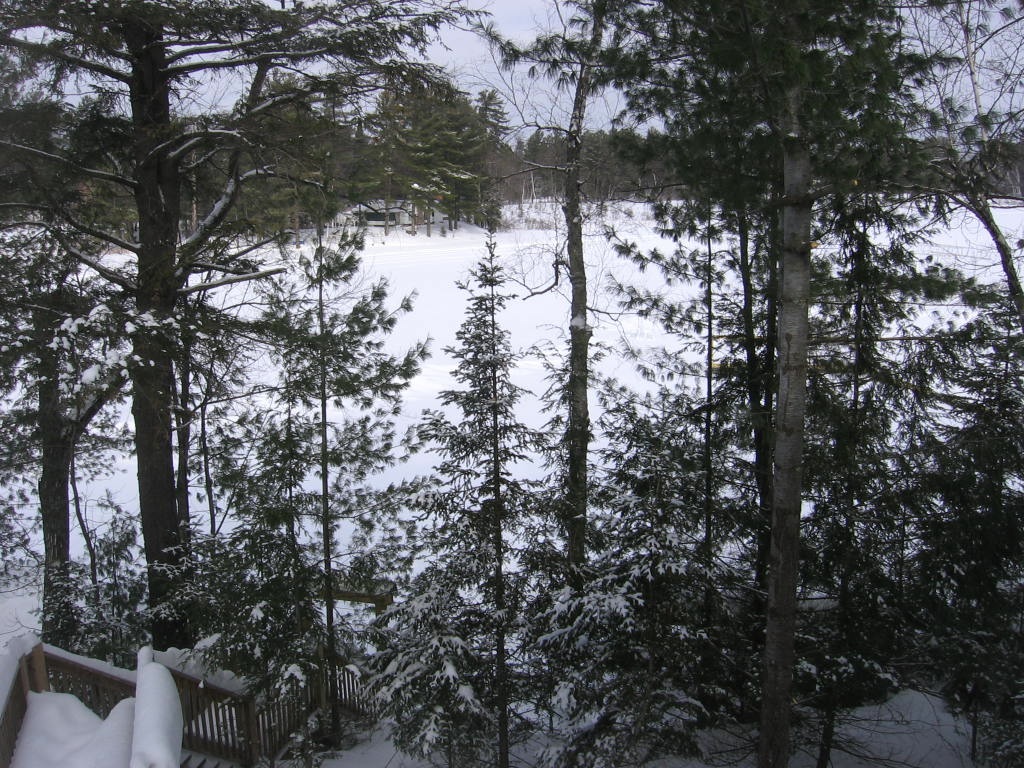 (The view from my window in February.)
This winter has been the coldest in years in northern Wisconsin. The lake in front of our house is frozen many feet thick and snow has piled up around drives so high that we have to creep out into the lane to see if there is anyone driving down the road. But winter can't last forever.  We may miss having spring again, but summer will come.
And I am busy writing another series of brides, "Quaker Brides" for Tyndale House. The first titled, Honor, will debut in September. Quakers or the Society of Friends have fascinated me for years. I think it's because they kept themselves as a distinct group for nearly three hundred years. Their distinctive Plain speech and dress made them stand out but more than that their desire to live according to the Inner Light or Christ's light set them apart.
It led some of them to champion for sweeping changes in our society, most prominently abolition of slavery,  a woman's right to be considered an adult equal to men, and prohibition. The last one turned out to be the wrong way to end the destructive effects of alcohol abuse but the first two causes shaped the social landscape of the 19th and 20th centuries. The Quakers who participated in these reforms or social revolutions were just a small percentage of their fellowship, men and women unwilling to turn a blind eye to injustice.  I hope that I may be found as faithful as they were.
2013
This year is filled with "brides"–The Wilderness Brides. The former is being published by Harlequin in its Love Inspired Historical line. The first book, Their Frontier Family out 11-2012, has been on Amazon's Christian Historical Fiction bestselling list since then. The second book, The Baby Bequest, will come out in August 2013.  I'm very grateful for these opportunities to continue writing. I'm also grateful when I receive emails from readers who have enjoyed one of my stories. Sometimes I feel like a chef who prepares a gourmet meal but who never gets to see anyone eat and enjoy it. 🙂  So thanks for the emails and comments on the blog. They mean a lot!
2012
My journey to publication is like so many other authors. Years of hard work and rejection and then finally making the connection with the right agent and then getting THE CALL from an editor who wanted to publish my first book, Never Alone in 1998. I did most of this in the "Olden Times" 🙂 before the Internet so it took me longer, over a decade. But I am the type of person who finds it hard to let go of a goal. I usually get where I'm going because I just won't drop it. (Though many times I did ask myself why I was beating my head against a brick wall.)
Now so many more opportunities have opened up for authors with the Internet and Print on Demand books and ebooks. On my "For Writers" page, I offer suggestions about what books and organizations might be of help to the aspiring author. Just because more opportunities for information and more routes are available does not mean that less preparation is needed to find a readership for your books. That is my main advice.
I've won a few awards–finally. I've won the HOLT Medallion twice (2000 and 2012) and American Christian Fiction Writers' CAROL Award (2011). I take these honors as encouragement from Our Creator to keep writing. As is true of most writers, I have developed a voice or brand. My brand is "Strong Women, Brave Stories." This brand flows through all three of the kinds of romance I write: contemporary, romantic suspense and historical. My books always include three elements:
a strong, usually crusading, heroine who does not fold under pressure.
authentic detail, especially in my historicals
a multi-cultural cast of characters.
I didn't choose my voice or brand and then shoehorn my stories to fit it. After writing almost twenty romances, I was finally able to sit down and figure out what made my writing different than other writers. I also try to write books that "stick to your fingers." By that, I mean, I want to make it hard or impossible for you to put my books down. So be forewarned! Whenever I receive a letter or email that says my book kept a reader up all night, I just smile!–Lyn
2011
Escape to Wisconsin!
I did. This phrase is seen on bumper stickers in primarily Wisconsin and Illinois. And it took me awhile to escape to WI. Texas, Illinois, Iowa—are the other places, I have lived.
Wisconsin is where my husband and I and our three cats live now. We live on a lake in a pine forest. Within fifty miles of our home, there are 2500 lakes. No wonder, it's called the Lakeland Area. Two national forests, the Nicolet and Chequamegon are also nearby. Also, Sylvania Wilderness north of us is one of the few old-growth forest preserves in the Midwest.
I suppose that some might wonder why it is important to mention where I live. I think that is because most Americans live in many different places in a lifetime. And I don't think anyone can argue that where one lives makes a difference to a life. Whenever I plan a story, I always start with a place. What a person does for a living and where are a big part of a person's life is place.
I have never lived in a small town before, so this has been a new experience for me. I also had never lived in a tourist area. That has proved even more interesting. In summer on a holiday weekend, the Lakeland area might host twenty to thirty thousand extra people. The idea is staggering. I avoid town during the busy, crowded summers, taking the back roads to avoid traffic. Summer is so busy here and noisy.
We live on a chain of several lakes. In the summers, I always say I sit and watch what I call the boat parade go by, especially on those busy weekends. I hear snatches of the music from the boats, giving me a wide variety—hiphop, C& W, hard rock. No opera though. Perhaps boating and opera don't go together. <g> And have seen a lot of people having a good time. It's hard to be grouchy when practically everyone that goes by is laughing.
The winters are the opposite, quiet and almost silent. Last January my husband and I stepped out onto our porch at night. The temperatures had risen near freezing and it was snowing. The sky was black velvet; the large fluffy snowflakes drifted down among the evergreens; not a sound was heard. It was one of those special "Ahhhh" moments. Beautiful. Breathtaking.
So that's a window into our life.
And here are a couple of candid photos.

My husband and I in front of our Christmas tree.

My husband on a special fishing day.