Mississippi Author Pam Hillman & Her Three Mamaws in Cameo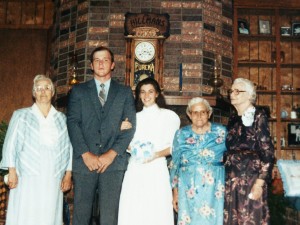 Three strong women pictured with the author and her husband on their wedding day: 
Lorene Graham, Ollie Tune, and Callie Evans.
My guest today is Mississippi author Pam Hillman, a long time acquaintance, who has a new book out- CLAIMING MARIAH.  DO NOT MISS ALL THE WONDERFUL OPPORTUNITIES TO WIN PRIZES, EXPLAINED AT THE END OF THIS BLOG. But don't jump ahead and miss Pam's stories. Pam is going to sahre about not one but THREE grandmothers or in Mississippian Mamaws to share with us. These three are not your everyday grandmothers or today maybe they are! Here's Pam:
 "A strong woman is a smart woman.
 My maternal grandmother, Mamaw Evans, was a smart woman. Down here in Mississippi, people used to say, "She's a smart worker." That meant that she worked smarter, not harder. She planned the work and worked the plan. Mamaw Evans was that kind of woman. Mamaw and Papaw lived in the middle of forty acres and grew cotton, corn, and vegetables. Papaw was a truck farmer, and spent many summer days peddling vegetables. Mamaw liked to stay at home and sew and putter around the house while he was gone. But Mamaw's puttering wasn't the ordinary stay-at-home-mom-and-bake-cookies housewife kind. Papaw might come home to find the walls in the house had been moved. Kitchen needed to be bigger? No problem. Mamaw made it so. From all accounts, Mamaw moved every wall in their house at one time or another. Now that's a smart woman.
 A strong woman is a caring woman.
My paternal grandmother, Granny Tune, was a caring woman. She had five children and a host of grandchildren. She was a short, dumpy woman and could come across a little grumpy sometimes. One of my cousins affectionately called her Granny-Grump-Stump. I wanted to call her that because it fit so perfectly, but I was too polite to ever actually utter the words. Granny had five children and three of them lived within walking distance of her country home. So that meant in her elder years, she had a host of grandchildren and great-grandchildren parading in and out of her house from daylight to dark, especially during the summertime. No wonder she got a little grumpy on occasion. But she loved every child that came through her door, and her Christmas shopping started the day after Christmas when toys went on sale. By June, she'd proudly announce that she'd not only completed her shopping but her wrapping as well. Now, that's not only caring, that's smart!
A strong woman is a Godly woman.
My husband's grandmother, known far and wide as Ms. Lorene or just Mamaw, is a Godly woman. She's 94 years old and still pastors our church. She dropped out of school in the eleventh grade to get married, went back to school to get her GED at the age of 77, then went on to get her college degree. She was the oldest person in the state of Mississippi to be inducted into the Phi Theta Kappa Hall of Fame and was invited to the Phi Theta Kappa Convention in Washington, DC. With degree in hand, she spent the next ten or so years teaching GED Algebra at the local community college while sharing the gospel with her students. I'd say that makes her smart, caring, and Godly. You can read more about Mamaw Lorene at Calico Trails in a post honoring her 93 birthday in December 2011.
Strong women have hidden strengths that might not always be apparent to passing acquaintances, but those of us who know them well can spot those strengths a mile away. And we strive to emulate them.
I'd love for you to share a cameo of a strong woman who's influenced you."–Pam
BIO
Pam Hillman was born and raised on a dairy farm in Mississippi and spent her teenage years perched on the seat of a tractor raking hay. In those days, her daddy couldn't afford two cab tractors with air conditioning and a radio, so Pam drove the Allis Chalmers 110. Even when her daddy asked her if she wanted to bale hay, she told him she didn't mind raking. Raking hay doesn't take much thought so Pam spent her time working on her tan and making up stories in her head. Now, that's the kind of life every girl should dream of! Claiming Mariah is her second novel.
Pam is thrilled to announce the release of her second novel,
Claiming Maria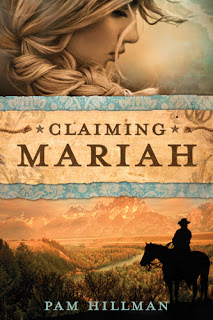 To purchase, click here. Claiming Mariah
To celebrate, Pam is giving away two eReaders
(choice of Kindle Wi-Fi, 6″ Display, or Nook Simple Touch) to
Two Winners.
Two ways to win: Like Pam Hillman's Author page on facebook and/or sign up for Pam's newsletter.
Registering both places is not required but will double your chances of winning. Also keep in mind that you will receive updates more often being connected on facebook than through the newsletter. Just sayin'
Contest runs from January 1st until March 31st, 2013.
And….that's not all! There will be prizes offered randomly during the tour. The best way to keep up with these is to check in regularly on Pam's facebook page.
Like Pam's facebook author page and click on Events to sign up for current giveaways.
PREVIOUS STOP ON TOUR
January 5th: http://inspirationalhistoricalfiction.blogspot.com/
NEXT STOP ON TOUR:
January 8th-9th: http://www.novelpastimes.com
Click for a Complete List of Stops Along the Tour
As you can tell from all the info at the end, Pam Hillman takes after her grandmothers! Don't miss a chance to enter her contests, etc!–Lyn