Author Carol Steward & The Top of Her List!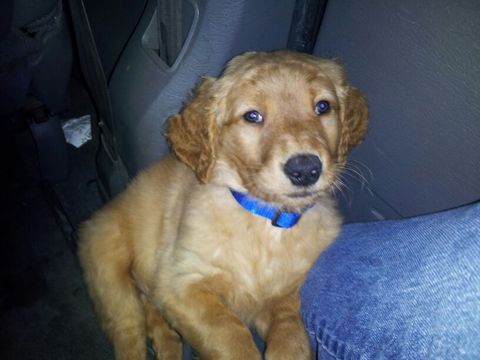 First of all, HAPPY NEW YEAR!!! No, my guest today Carol Steward is NOT a golden retriever puppy! But I lost her photo and somehow saved the one she sent me of her mother in law's new puppy which she delivered to her mil over the holiday weekend! But we all like puppies, especially my friend author Carol Steward who is now going to tell us the woman she puts at the top of her list of strong women! Here's Carol:
"When I think of strong woman, there's one woman who tops my list. My mother, Phyllis Bohannan. Mom fell in love with a Marine, who then became a law enforcement officer after WWII, and together they raised 5 amazing children, if I do say so myself. She wasn't a traditional working mom -we owned and operated small motel when I was young, which meant both Mom and Dad worked day and night to keep business growing. When times were tough, she sewed rather than bought our clothes. When she didn't have a pattern, she improvised. We cleaned motel rooms to give the hired help holidays off. She did the motel laundry herself in the back of the attached home. It wasn't easy, but it meant everything to her to be there for our family. At times that meant moving grandparents and parents in with us after illnesses or surgeries, and sacrificing a social life that so many of their friends enjoyed.
Mom set the bar very high when it came to strength. She had a debilitating stroke in her late 60's and just a few months later she had mastered walking with a one-handed cane. She continued to serve meals to families after funerals at her church. After my dad died she lived in their duplex and learned to drive again. Fourteen years living with paralysis showed all of us the depth of her strength. Eleanor Roosevelt once said that women are like a tea bag, you never know, how, strong it is until you put it in hot water. My mother showed the truth of that quote. Two years ago, when she was in hospice, Mom's doctor told us her body just didn't know how to stop. That was Mom, strong to the end. I miss her greatly, but the lessons of her long life of strength live on in me and my own daughter."–Carol
To purchase, click cover.
This is Carol's latest book. Here's the blurb:
Katarina Berthoff had everything planned out. Her business was developing well, and her stable boyfriend would propose in eight weeks, according to his timetable. Then smoke jumper Alex MacIntyre—Katarina's teenage crush—reentered her life. Alex was kind and romantic and just as handsome as she remembered. And he was definitely not part of the plan.
Things weren't exactly going as Alex expected, either. He'd left smoke jumping only temporarily to help his brother Kevin run his construction business. Eventually he would be going back to his dangerous calling as a firefighter. There was no place in that life for a vivacious and beautiful woman who also happened to be practically engaged. But Alex couldn't deny that he liked the regular hours in construction, being there for family get-togethers…and coming home to Katarina. Which meant he had a choice to make—and so did she.
Sounds like a winning story to me! So how do you like Carol's puppy or her mother in law's puppy?
Puppies and kittens are dangerous–I want to take them all home with me.
Do you have a pet? What? Their name?–Lyn