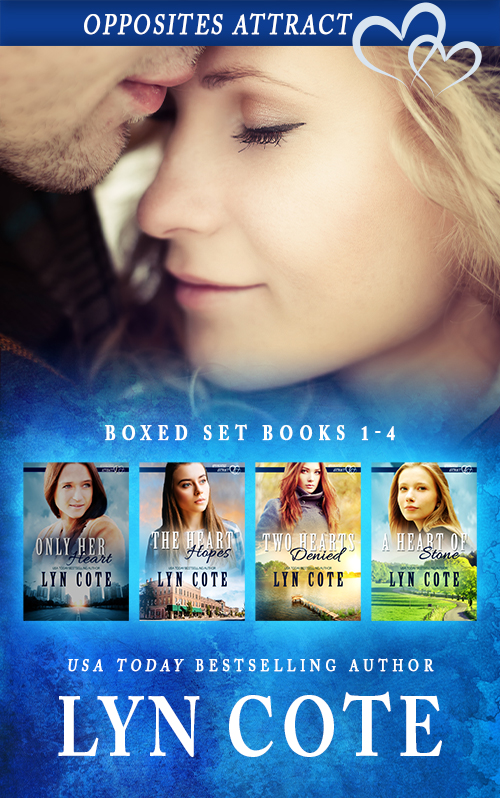 Four hurting couples find opposites do attract even in the dark shadow of mystery~(Free with Kindle Unlimited)
About the Book
Four hurting couples find opposites do attract even in the dark shadow of mystery~
Opposites do attract. And true love never runs smooth. That's true in small towns and big city neighborhoods. Especially when mysteries intrude. Who is hacking into sensitive medical center records? Stealing valuable antiques? And why has a father of twin boys disappeared? These questions and more stress families already dealing with alcoholism, broken vows, and the loss of loved ones. But hope abounds. Faith can face anything. And love never fails. 
Only Her Heart Book 1
What will it take for a clueless computer genius to notice the loving woman at the desk beside him? And who is the hacker who is endangering lives?
The Heart Hopes Book 2
What could unite a disgruntled DA and the pretty teacher, responsible for his hung jury? Perhaps a little boy in need of love.
Two Hearts Denied Book 3
Each bearing a different heartbreaking past-a lovely, young lawyer and a hardened detective–what can break the barriers that stand between them and a future together? And can they find the missing father of two little guys?
A Heart of Stone Book 4
A baby girl's future hangs in the balance and sparks a heart-rending mystery~Why Cash's only sister willed guardianship of her baby to her best friend instead of him.

Other Books by Lyn in "Opposites Attract"
Disclosure of Material Connection: Some of the links in the page above are "affiliate links." This means if you click on the link and purchase the item, I will receive an affiliate commission. I am disclosing this in accordance with the Federal Trade Commission's
16 CFR, Part 255
: "Guides Concerning the Use of Endorsements and Testimonials in Advertising."