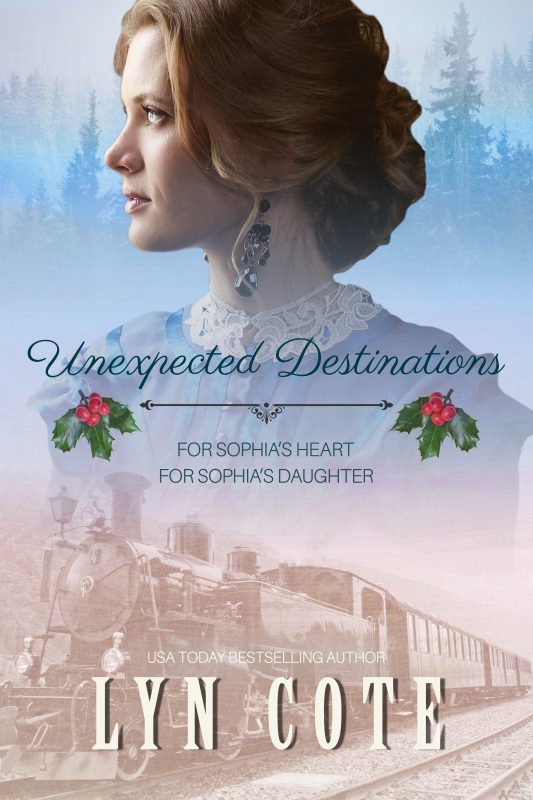 Two novellas~two unlikely couples and two unexpected destinations- For Sophia's Heart and For Sophia's Daughter~ On sale March 23 -30. 99 cents 23-26, 1.99 27-30
About the Book
This book combines two previously published novellas: For Sophia's Heart and Winter Homecoming: Sophia's Daughter. So check to see if you've already purchased them.
For Sophia's Heart~A penniless but pretty girl…a wealthy young man on his way to war–what could draw them into a marriage of convenience?
In April 1898, Sophia Schiffler boards a train and meets Gannon Moore, both on their way to Chicago. Gannon is going to withdraw from the university to enlist in the Spanish American War. Teddy Roosevelt is gathering his rough riders to invade Cuba. Mourning the recent loss of his sister, Gannon is shocked when Sophia reveals she is going to marry a man she's never met. When this suitor doesn't meet Sophia at Union Station as planned, what they discover there catapults Sophia into a situation she could never have imagined.
Over the next months with Sophia in Chicago and Gannon preparing for war in Florida, they exchange letters written from their hearts. In the fall, Gannon returns from war, a changed man. The course of true love never runs smooth. And life has a way of turning tables on two young people in love. Their springtime love endured separation and a war. Will it survive a winter of reality?
For Sophia's Daughter~A rich man's daughter and a logger's son–what could bring them together in the wintry northwoods?
Catching a freight train out of Chicago is no way to spend Christmas Day. 
The Depression has cost Will Gustafson his classy wife, executive job and high society life. Now he's heading home to the northwoods of Wisconsin to face the "I told you so's" he deserves. On the freight train a homeless little boy attaches himself to Will like a lost puppy. On the day after Christmas in her Model T, Mrs. Cass Moore Newton picks up Will and the boy and takes them home with her. Is she crazy? 
But a new widow, she needs a handyman to help her weather the winter in her isolated cabin. She's concealed her "delicate" condition from everyone, including her parents, but can't deceive Will.  He fights his growing attraction to this good but stubborn woman—so unlike the wife who divorced him. The three of them become an unlikely "family." Yet what will happen when the snow melts and all their secrets are revealed?

Disclosure of Material Connection: Some of the links in the page above are "affiliate links." This means if you click on the link and purchase the item, I will receive an affiliate commission. I am disclosing this in accordance with the Federal Trade Commission's
16 CFR, Part 255
: "Guides Concerning the Use of Endorsements and Testimonials in Advertising."