Another Chance to Win $ PLUS Find Great Books!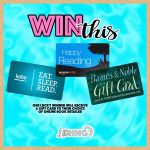 Here's another chance to win a gift card to the digital bookstore of your choice in the Poolside Romance Books Promotion. Click this link and find out exactly how large the gift card is!
And sample new authors. My book Only Her Heart at a bargain price is included under Sweet Romance!
Click here.–Happy reading. Hope you win!-Lyn