Jenny L Cote, Another Author Named Cote!–Interview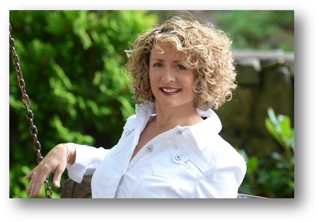 For some unknown reason, earlier this year I decided to google my late mother in law's name and I discovered an author by the same name! And she's a Christian author too! I have a guess where the idea  to google my mil's name came from, do you? 😉
Anyway Jenny L Cote agreed to be my guest. Jenny writes a mixture of Christian history and fantasy for children.(The fantasy comes from her animal characters.) And I fell in love with the cover of her latest book. So without further ado, here's Jenny:

1-Share one fun or interesting fact about your life or books.
My children's historical fiction books span from Noah's Ark to World War II. The best thing about writing these books for me is the RESEARCH! I have a driving passion to go see where history happened in order to bring it to life in the pages of my books. I've been blessed with the opportunity to travel and gain unprecedented access to places I never dreamed I could visit, and to meet people I never imagined meeting. Some highlights include: sitting in George F. Handel's composing room in London to write the scene of him writing Messiah; staying in the Kilns-home of my writing hero C.S. Lewis in Oxford; sitting in the Eagle and Child Pub in Oxford with Walter Hooper (secretary to C.S. Lewis) where the "Inklings" Tolkien and Lewis met; having dinner in Paris with Comte Lafayette, sixth great grandson of the Marquis de Lafayette; and attending the 70th DDAY ceremonies in Normandy, France. I've also been to Israel, Egypt, Rome, and of course all over Virginia researching Patrick Henry and the Revolutionary War. So it should be obvious that I have to write books to support my research habit! ?
2-Why do you write?
I can't help myself – I was wired to write! I love God, history and young people, and blending these loves together through my pen is pure joy. When I was eight years old I wrote stories about talking fruit, so I told Phil Vischer that I wrote "fruity tales" long before he wrote "Veggie Tales." But I never thought of being a writer as a profession until I was an adult.  And this was after I already had a long career in marketing and strategic planning. So although it took me a while to discover what I was truly meant to do, I now never work a day in my life. It's pure fun.
3-In what ways does your heroine show strength? And where does she draw this strength?
My heroine is a petite, intelligent French cat named Lizette Brillante (Liz). Her strength is her intellect, given by the Maker for her role on missions with the Epic Order of the Seven animal team.  Her intellectual prowess shines when she keeps it couched within faith. But her greatest strength can become her greatest weakness when it overshadows her faith. Liz sometimes struggles to "lean not onto her own understanding" and trust what she cannot explain or figure out. This makes her a teachable, lovable, relatable character for children and adults as well. –Jenny L
Learn more about Jenny L. Cote at www.epicorderoftheseven.com and Face Book Jenny L. Cote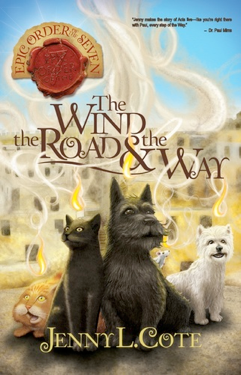 To purchase, click here. The Wind, the Road and the Way (The Epic Order of the Seven)
The Wind will change their hearts. The Road will change his direction. The Way will change the world. And the Order of the Seven will change the future for believers while the Enemy seeks their crushing defeat.?
This heart-gripping, action-packed adventure begins a two-book saga that brings to life the events of Acts and the birth of Christianity while showing how each book of the New Testament came to be. The Wind, the Road, and the Way covers Resurrection morning through Paul's second missionary journey. The Fire, the Revelation and the Fall (March 2015) completes the events in Acts, Peter and Paul in Rome, Roman Christian persecution in the arena and John's Revelation on Patmos. Watch the miraculous rise of the Church through the fiery trials sent by an Enemy who will stop at nothing to kill anyone who dares to be called Christian.
I'm so happy that I found Jenny! I think her books sound amazing. Maybe some of you are looking for good books to give special children as Christmas gifts. May I suggest these?
Also her black Angus Max (like the dog in her books) is suffering from cancer. Why not drop by her facebook page and leave a comment for Max. He could use some cheering up along with his owner Jenny L!
BTW, AmyC is the winner of my slightly used copy of A RUMORED ENGAGEMENT and I'm throwing in my copy of BEAGLEMANIA. Don't forget to leave a comment even when I don't mention a giveaway. You never know when I'll be in a "giving" mood! –Lyn