Lyn Interviews Author Carol Steward & Her New "Heartwarming" Romance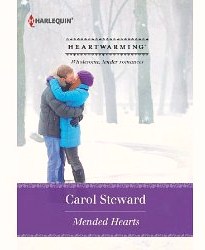 Author Carol Steward is a good friend so when one of her earlier Love Inspired romances came available again for Ereaders in the new HEARTWARMING line, I invited her to guest.
Here's the interview.
Tell us a little about your writing and your real life.
I've been writing fiction for about 18 years, and sold my first project in 1997. I've published 12 books with Love Inspired – some sweet and some romantic suspense.
When I'm not writing I'm a mother of three grown and married children, grandmother to four precious grandkids, and work at a state university helping graduate students get their theses or dissertations completed so they can receive their degree.
Was there a time in your life when you think God challenged you to become stronger? Please share.
There have been too many challenges to count, or to list here. The one with the most impact was probably when my mother had her stroke. I had just sold my second book, was working at home as a child care provider, and had 3 teen-age children. I learned to juggle more than ever, which became very important as the years went by. My mother was left paralyzed, but otherwise recovered from her stroke. She never gave up trying to live life to the fullest. She faced many hurdles in the next 15 years before her death. Her unwaivering faith, through all of the limitations and challenges taught me that anything is possible when you hand it to God.
Every week there are new challenges, and every week I think of those who face far more obstacles in their daily life. If they can do it, I can do it.
In what way does your heroine show strength?
Emily's father abandoned her mother and three daughters when Emily was young. She became the "mother" while her mom worked several jobs to keep her girls fed. Emily is a typical first-born who never gave up on her passion – taking care of others. Her drive to become a doctor comes from a very personal experience, and she gave up everything – including the hero, Kevin – to make sure no one else in her care suffers again.
And where does she draw this strength?
From her faith, family and friends. She's very loyal and motivated to live up to the responsibilities in her life. When a parents of one of her 6-year-old patients are killed in an auto accident and have left her in their will to become their little boy's guardian, she takes it very seriously. Her friends and family play an integral part in her decision.
Share one fun fact about your life or books.
I had turned this book proposal into my editor for consideration, and a month later, into my life walked a female doctor and her building contractor husband. I didn't want them to think I was trying to pull one over on them, so I told them the truth, that I am a writer, and had already turned in a book idea about a hero and heroine that fit them to a T. Being the wonderful couple they are, they gave me terrific ideas to make the book even better. A few of the scenes were inspired by their real life experiences. I love when God asks me to do something, and then paves the way to make it happen.
Tell us about this book.
Mended Hearts is a revision of Second Time Around, a Christian romance published in 2000 as with Love Inspired. Mended Hearts is updated without the religious elements from the original version. Set in the northern front range region of Colorado as are most of my books, it combines the urban issues and small-town feel that readers will find comfortable and heartwarming. It is the first of a 3-book series in the MacIntyre Brides series. The next two in the series will come out as Alex's Choice in January 2013 and Rocky Mountain Valentine in February 2013. Find it and all of my books at your favorite online bookstore.
Mended Hearts: Kevin MacIntyre never expected to see Dr. Emily Berthoff again—and didn't want to. Not after they'd broken off their engagement eight years ago and she'd left for medical school. He'd wanted to forget her as easily as she'd seemed to forget him. But he couldn't.
And now she was back.
When she'd taken a job back home in Colorado, Emily had dreaded running into Kevin. She didn't want to relive the anger and the hurt of their breakup. Or reawaken the powerful feelings she'd had for Kevin. Then she saw him at a friend's wedding and knew that was impossible—she still loved him. But could she forgive him?
Thanks for being my guest, Carol. I hope new readers find your book and enjoy it!–Lyn
To purchase Mended Hearts, click here. Mended Hearts (Harlequin Heartwarming)