New Title-a Duet of Stories!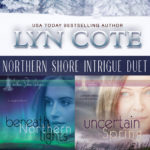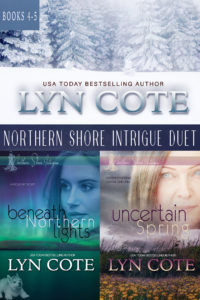 I have combined a novella and a full length novel and will soon bring out the paperback edition!
Northern Shore Intrigue Duet
A Duet of Stories~
BENEATH NORTHERN LIGHTS~
Two wounded souls, a puppy and someone out to destroy a man's dream~
After a life-altering event, Nick's one goal is–to race his beloved Alaskan husky, Maddie, in the Lake Superior Apostle Islands Dog Sled Race. Megan adopts Maddie's pup, the runt of the litter, and soon helps "grumpy" Nick care for his dogs. Nasty pranks start. Megan and Nick draw closer as the danger mounts. Who's out to rob Nick and his huskies of the joy of the race? 
A heartwarming, clean romance mystery with characters – – some four-footed – – you won't easily forget~
UNCERTAIN SPRING~
By starlight, a frantic dog leads Lois to a young woman lying in the snow, unconscious…
In the morning, the girl is diagnosed with a state of dis-associative fugue, a form of amnesia. No ID, no car, no clues. Taking in the nameless young woman and her dog, grandmother Lois finds an ally in the local vet, Dr. Jacob. Attraction sparks but isn't falling in love only for the young?
And why isn't anyone searching for the young woman? Or is someone? 
Another suspenseful, heart-warming, second chance on love romance set on the rugged shore of Lake Superior by a USA Today bestselling author.
Beautiful shore, Dangerous seasons~
Click here for more info.