Lyn Asks A Timely Question–You Could Win a Free Ebook–Why not try?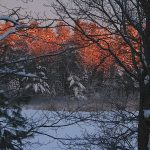 The above photo is taken from my front porch on a November morning. The dawn had cast a fiery copper light onto the trees across the frozen lake. So far this year the lake is still liquid and blue but who knows when the skim of ice will begin to move over the surface and become like glass?
I've shared a photo with you and would like you to share with me. Every commenter will be entered into a drawing for copies of an ebook of mine. I don't know how many I'll give. It depends on the comments so please share more than one word. I'm really itnerested in you and your holiday.
HERE'S THE TOPIC:
Will you be cooking Thanksgiving or going to friends or family? Will you be traveling? And what's your family favorite food or tradition for Thanksgiving?

 
THIS WILL STAY OPEN TILL DEC 1ST. Please share on Facebook, Twitter, etc. Thanks-Lyn