Are You Feeling the Pinch of Inflation?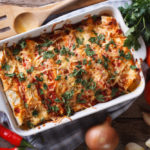 The TV voices keep telling us that this level of inflation has not been seen since the 1970's. Such a cheerful thought. I was a young wife in the 70's and believe me, I could easily have lived without history repeating itself. But grumbling doesn't help, does it? (Though I still do it!'-)
Anyway I began thinking of ways that I handled inflation then and have begun using these tactics again. 
Ground turkey. Though more expensive now, it's still significantly cheaper by the pound than ground beef. I usually stretch my ground beef with it. No one seems to notice and it helps the bottom line.
One vegetarian meal a week. I have an ancient recipe, Enchilada Bake, that I'm using again. (See below)
Also are you acquainted with Barilla Protein Plus Pasta? It costs a bit more but one 2 oz. serving of the pasta has 10 grams of protein. So that means I can use less or no meat in a recipe.
Gardening and canning.
Baking my own bread. (Thank goodness, I have a bread machine now!)
So those are the ones I have started using again. What about you? Please share if  you have a money-saving tip. One commenter will receive a free ebook. 
PS: Here is one of my meatless meals–very popular with my husband!
Enchilada Bake 
1 can or of sliced mushrooms drained or 1 cup fresh 
1 large green pepper, diced 
1 onion, diced 
1 8 oz can tomato sauce 
1 can diced tomatoes, drained 
2 cans pinto beans drained or 2 refried beans or 1 of each ,
4 corn tortillas (more if small)
spices: 1 teaspoon garlic powder 
1 teaspoon chicken bullion, dry 
1/2 teaspoon chili powder 
1/4 teaspoon cumin 
This is a flexible recipe and many of you may want to add such things as jalapeños or more cumin and chili powder; do it to taste.
*****
1 cup shredded Mexican cheese – your choice
1 cup sour cream or plain yogurt 
Combine all the ingredients down to the ***** in a saucepan and simmer until warm. Then in a sprayed 9 x 13 pan, layer like lasagna starting first with the 2 tortillas, then half of the mixture in the pan, 2 tortillas. Smooth the sour cream or yogurt over the tortillas. Top with the rest of the mixture and then finish with the cheese. Bake at 350° for approximately 25 minutes or until it bubbles.