Author Marsha Bauer Shares Her Parent's WWII Love Story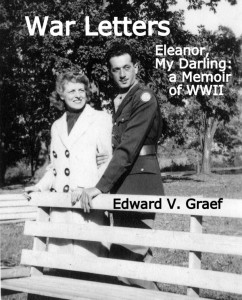 My guest today is secular Author Marsha Bauer. She has just done something so wonderful that I had to ask her to come here and tell you about it. This memoir written by her father sounds like a great Christmas gift for anyone in your family who might remember or be interested in WWII or just enjoy a great true love story.  Here's Marsha:
"When my father and mother married, it was at an Army camp, during World War II. My mother was a volunteer with the American Red Cross; my father was a 2nd Lieutenant. Both were in their thirties.
My mother had been worried that she might never marry; might never have children. First, there had been the Great Depression, which made relationships difficult. Then there was the war; most men were in the military. A strong woman, she decided on a bold move, especially for that era: go to where the men are. She joined the Red Cross, and was assigned to Camp Shelby, Mississippi.
Seven weeks after meeting my father, they were married. A top priority was for my mother to become pregnant before my father was shipped out.
She had two miscarriages, which had to have been traumatic, especially since my father was going to soon be sent overseas. She never talked about the miscarriages to me. I only found out about them when I read my father's war letters. I assumed the miscarriages occurred very early, but then found pictures of her pregnant. She was about four months along with the second one, wearing maternity clothes, and looking so radiant. I think women of that generation accepted that some babies wouldn't make it. Her sister's year-old son died about that same time. I never knew about that either; not until I was looking through old albums, and saw a picture. How I wish those two women, and my father, were all still alive, so I could ask questions.
My mother's sister went on to have four daughters. My mother got pregnant again right before my father went off to war. That time, it worked. She had a son, followed by three more children when the war ended and my father came home. Their marriage lasted until "death do us part." Collecting my father's war letters and old photos, and turning them into an eBook was a true labor of love for me. I had read the letters before when I was much younger; reading them now was a more enlightening experience. This memoir, told through war letters, is available at Amazon, Barnes & Noble, and most major vendors."
Short Description of "War Letters: Eleanor, My Darling–a Memoir of WWII": From the perspective of "an officer and a gentleman"–a memoir of World War II told through letters sent from an Army Infantry captain to his lovely Red Cross wife back home. It is a story of love amidst a heroic war; a love begun in the Army camps of the southern US, and then continued from afar from the jungles of the South Pacific–New Guinea, Dutch East Indies, and the Philippines."–Marsha
Marsha Bauer Bio:
The granddaughter of a former Mayor of Columbus, Ohio, Marsha Bauer has a master's degree in English from Duquesne University and an undergraduate degree in English from Penn State.  During her graduate studies, Marsha worked as a model. Afterward, she became a high-school English teacher and then moved into the publications field, working first as a technical editor of Naval Intelligence documents (where she had a Secret clearance) and then as a technical writer, publications project manager, and business analyst. Marsha has had three secular historical romances published by Zebra Books. Treasured Embrace was the first, followed by a multi-book contract that included Sweet Conquest, then Pirate's Angel (a lead title). She is now venturing into eBooks, with both her previously published books and her new books. Marsha lives in Pennsylvania with her husband. They have two grown children, both of whom have posed as cover models for her historical romances.
I can certainly understand Marsha's mother's desire to marry. Even today when women don't depend on men for a living, we still all want to give and receive love. And the fact that her mother never mentioned the miscarriages to me shows how deeply she regretted the loss of those children. Thanks for sharing, Marsha. Do any of you have love stories of parents or grandparents in WWII?–Lyn