Author Lena Nelson Dooley & Maggie & Book Giveaway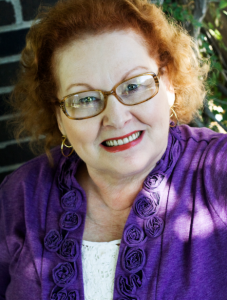 My guest today is one of those Texas-style ladies, Author Lena Nelson Dooley. That's quite a name to live up to and Lena does! I had the pleasure of meeting her in Dallas a few years ago. She's going to share a family story with us and is going to giveaway a copy of her latest historical, Maggie's Journey. Here's Lena:
"From a  Long Line of Strong Women
Several years ago when my first book released, I visited my Aunt Esther in California and had a book signing at Carmel. My aunt is the family historian for my mother's family. She had made copies of lots of legal papers and newspaper clippings about our family, going back several generations.
I was most interested in a story about my great, great grandmother. She was the daughter of a wealthy family. When she and my great, great grandfather married, her father gave them $500 for a wedding present. In the mid-1800s, that was an absolute fortune.
The young couple went west to Arkansas and established a dynasty and a prosperous farm on the land purchased with their wedding present. After their children were grown with families of their own, she had a soft spot in her heart for my great grandfather, the son who wasn't as successful as the rest of the children.
In that time period, women couldn't own land. It was in the husband's name. But she wanted the land to be willed to the youngest son, which was almost unheard of as well. The only way she could get her name on the deed for the land was for my great, great grandfather to go to court and testify that he had received the money fraudulently. That's what she got him to do, so the land transferred to her name, and she could leave it to the son she wanted to.
It could be that her husband loved her so much that he agreed, but it took a strong woman to even ask him such a thing. And I'm sure she had to do a lot of convincing.
After Aunt Esther told us the story and showed us the legal documentation, I turned to my husband and said, "See. I come from a long line of strong women." We all got a good laugh out of it.
Probably, that's why I write strong female characters. Maggie wanted to travel half-way across the United States, and she wanted to start her own business, when her mother was opposed to the idea."–Lena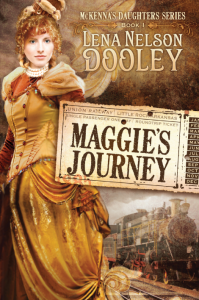 Maggie's Journey
By Lena Nelson Dooley
ISBN 978-1616383589
Realms/Charisma House
McKenna's Daughters Series, Book 1
Maggie's Journey grabs you on page one with characters and events that reflect real-life joys and heartaches that change the characters forever. Make room on your "keepers" shelf! —Loree Lough, best-selling author of 80 award-winning books, including From Ashes to Honor.
A girl who's been lied to her whole life…
Near her eighteenth birthday, Margaret Lenora Caine finds a chest hidden in the attic containing proof that she was adopted. The daughter of wealthy merchants in Seattle, she feels betrayed both by her real parents and by the ones who raised her.  Maggie desires a place where she belongs. But her mother's constant criticism and reminders that she doesn't fit the mold of a young woman of their social standing have already created tension in their home. With the discovery of the family secret, all sense of her identity is lost.  When Maggie asks to visit her grandmother in Arkansas, her father agrees on the condition that she take her Aunt Georgia as a chaperone and his young partner, Charles Stanton, as protection on the journey. Will she discover who Maggie really is and, more importantly, what truly matters most in life?  
Lena Nelson Dooley is an award-winning author with more than 675,000 books in print. She is a member of American Christian Fiction Writers—where she received the Mentor of the Year award in 2006—DFW Ready Writers, and Christian Authors Network. She lives in Hurst, Texas, with her husband of over 47 years.  For more about Lena, visit her blog:
Characters Who Grip Your Heart http://lenanelsondooley.blogspot.com

Maggie's Journey brings up the topic of adoption again. Just last week Author Roxanne Rustand shared that she was adopted and had just written about an adopted heroine. Do you know of anyone who has adopted or have you adopted? Do adopted children still struggle with this fact or not? Leave a comment and perhaps win a book!–Lyn