Lyn Reviews Helen C Johannes' Children's Book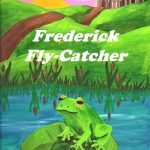 If you're looking for a whimsical fantasy to give that special child for the holiday-this book is for you!
In disclosure, I am a friend of the author, Helen C Johannes. (This is her first children's book but she's an award-winning author of fantasy romances for adults.) And I received a complimentary review copy. But this is my honest review.
First of all, I loved that Frederick is such a REAL frog! So many little details about a frog's life and world are interwoven into this intriguing story. And this creates a great contrast for the moment that magic enters Frederick's life!
A human tears into the swamp chased by more humans. AND EVERYONE KNOWS THAT HUMANS ARE TROUBLE!~
Before Frederick can blink his big eyes, he's carried away into the human world–a castle even!
Of course, there is an evil sorcerer. Doesn't every castle have one? '-)
I'm not going to give away the plot. What fun would that leave for you and the child you give this to or read this to?
It's available in ebook and print.
My final comment: Not every frog becomes a prince but Frederick is a prince among frogs! See if you and that favorite child don't agree!
Click on cover below. Paid Link

ONLY 99 CENTS EBOOK-LIMITED TIME!–Lyn