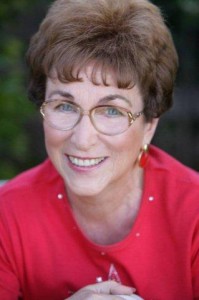 My guest today is Author Margaret Brownley who writes one of my favorite type of story, romance set in the Old West. Margaret shares much about those gutsy women of the Old West. Here's Margaret:
"Those Gutsy Heroines of the Old West
"When photographing stampeding cattle, charging bulls or blazing gunfights, use the fastest shutter speed possible."—A Vision of Lucy
I love writing about the old west.  That's when women discovered previously hidden strengths and really came of age. Old western movies helped establish the male hero, but depicting women solely as bonnet saints, soiled doves or schoolmarms did them a terrible disservice.
The westward migration freed women in ways never before imagined. Women abandoned Victorian traditions, rigid manners and confining clothes and that's not all they did. They brought churches, schools and newspapers to frontier towns and helped build communities.
Today's women may still be banging against the glass ceiling but the women of yesteryear had to break down doors. One newspaper reporter complained that "Women dared to lay hands on man's most sacred implements—the razor and strop—and shave him to the very face."
Ah, yes, women were barbers, doctors, firefighters and saloon keepers. With little more than their faith to guide them they owned cattle ranches and gold mines and fought for women's rights. In 1860 Julia Shannon of San Francisco took the family portrait to new heights when she shockingly advertised herself as a daguerreotypist and midwife.  Cameras were bulky, chemicals dangerous and photo labs blew up with alarming regularity. It was a hard profession for a man let alone a woman.  How could I not be intrigued? After seeing that ad I just had to write about a female photographer.
It took strong and courageous women to bury children along the trail; barter with Indians and make homes out of sticks and mud.
It's estimated that about twelve percent of homesteaders in Colorado, Wyoming, Montana, North and South Dakota, and Utah were single women. And yep, women even took part in the Oklahoma land runs.
An article in the San Francisco Examiner published in 1896 says it all: "People have stopped wondering what women will do next, for keeping up with what she is doing now takes all the public energies."
These are the heroines for whom we like to cheer.  It must have been a shock to the male ego to have to deal with such strong and unconventional women—and that's at the very heart of my stories. The gun may have won the west, but it was gusty and courageous women who tamed it."–Margaret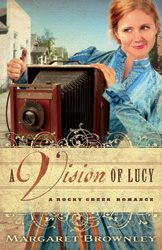 A Vision of Lucy is nominated Best Historical Western Romance of 2011
It you loved Lucy you can vote here:  http://www.lovewesternromances.com/2011BestWesternRomance.html
Margaret's bio:
Thrills, mystery, suspense, romance: Margaret penned it all. Nothing wrong with this—except Margaret happened to be writing for the church newsletter. After making the church picnic read like a Grisham novel, her former pastor took her aside and said, "Maybe God's calling you to write fiction."
So that's what Margaret did. She's now a New York Times bestselling author and a Romance Writers of America RITA finalist with more than 25 novels to her credit—not bad for someone who flunked 8th grade English.  Just don't ask her to diagram a sentence.
The third book in her Rocky Creek series "A Vision of  Lucy" is available now.  She has a story in A Log Cabin Christmas. Her next book "Dawn Comes Early" will be published March 2012.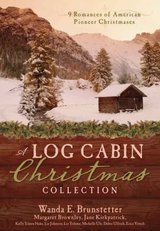 Happily married to her real life hero, Margaret and her husband have three grown children. For more drop by www.margaretbrownley.com
"Not bad for someone who flunked 8th grade English.  Just don't ask her to diagram a sentence" This line really caught my attention. I know that my downfall was math. I can still diagram sentences! 🙂 But guess who kept the family checkbook balanced for years–me! Did you or someone you know defy the predictions about something." –Lyn
P. S. My historical La Belle Christiane is being featured on Shades of Romance blog today. Click here
Also on Friday Dec 16th, Shades of Romance is holding a Holiday Open House and I'm giving away books there and so are a lot of authors! Don't miss it!