LIMITED TIME ONLY! 20+ Inspirational Authors –Prizes! Books!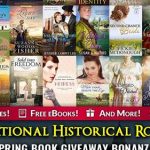 Have you read my novel,

 HAD TO BE YOU?
 For a limited time, you can enter to win the book

 
plus

 

20+ fantastic

 

Inspirational Historical Romances
from an amazing collection of authors, AND

 
a brand new eReader-along with a collection of FREE reads just for entering!

 
When you're done, leave a comment to let

 
me know you've entered!  WHY NOT??? You're a smarty, aren't you? :-)-Lyn
ENDS THURSDAY APRIL 17TH!