Lyn Interviews Author S J MacIver & Ghost of a Chance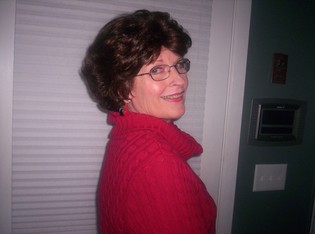 My guest today is S J MacIver. I think you'll find her interview interesting and the premise of her latest book intriguing. S J is offering one E-copy of her book to a commenter so if you have an ereader or read books on your computer, be sure to leave a comment and be entered in the drawing. Here's S J.
1- Tell us a little about your writing and your real life.
I write inspirational romance under my maiden name, S.J. MacIver. But I have been married to the man of my dreams for 50+ years, and yet it seems at times like we just became one last week. We spend a lot of our time driving around in the wildlife refuge that is only a couple of miles from our house in North Dakota. We've found an amazing number of critters to study, from all manner of birds, to deer and even mink. We are not allowed out of the house on these jaunts without our rescue dog, Lucy, who loves those drives as much as we do. When we came across Lucy, who was abandoned at a nearby farm, we had recently lost our golden retriever, Stella to old age. She was two months shy of 15 when she went to sit at God's feet. Lucy filled a very big hole in our hearts, and we think we filled a hole in her heart as well.
2-Was there a time in your life when you think God challenged you to become stronger? Please share.
God challenged me big time in November of 2007 when I was diagnosed with stage three aggressive breast cancer. If not for the fact that I already belonged to a wonderful, bible-based church and had lots of family and friends praying over me on a daily basis, I'm not sure that I would have had the strength to endure the mastectomy, chemotherapy, and radiation that followed. That battle, one I'm still fighting to this day, has not defeated me, but made me a much stronger, God-loving woman.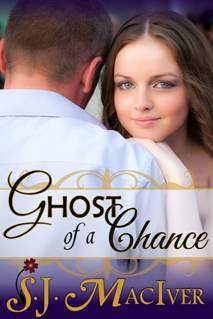 To purchase this book, click here. Ghost of a Chance (Second Chance at Love Series, Book 2)
3-What is special about your most recent book to you?
Ghost of a Chance is the title of the novel, and this is a book that I've wanted to write for a very long time. It is set in my hometown of San Diego, in a small fictional city not far from the shores of La Jolla. During my childhood and even as an adult, I used to love visiting the curio shop near La Jolla that featured an underground stairwell carved out of sandstone which led to an open cave to the sea below. I've always wanted to write about that cave and the spooky sensations it evoked in me.
With Ghost of a Chance, Second Chance at Love Series, Book 2 I think I succeeded, mainly because the book opens with my hero and heroine dying on page one! The strength my heroine, Tori, displays is nothing short of courageous as she and Josh stumble through an afterlife that seems to have them stuck in some kind of holding pattern. This story is about their struggle to find a way back to the land of the living. It is during this period that the two discover a love they had long denied in the past.
Thanks, SJ. Your story sounds out of the ordinary and I like that! Remember leave a comment to be entered into the drawing for an Ebook of A Ghost of a Chance.
QUESTION: Do you like a book that takes a little different approach to the usual love story such as S J's does? Why or why not?–Lyn