Want to Win A Whole Lot of Inspirational Romances???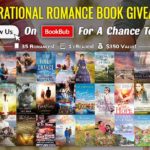 Love is in the air… If you haven't read my book Uncertain Spring, you can enter to win it on BookSweeps today — plus 35 heartwarming Inspirational Romances from a great collection of authors AND a brand new eReader 😀
When you're done, comment to let me know you've entered! I'll be entering one commenter in a random drawing for a free copy of Uncertain Spring!
BTW, I subscribe to Bookbub myself. It's a free daily email that announces discounted books. You can choose the type of books you prefer, so you only get the ones you want. I LOVE IT! Click here to look it over for yourself!–Lyn