Lyn Reviews Jan Karon's At Home in Mitford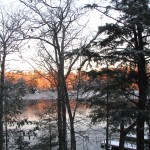 If you haven't read any of the Mitford Novels, why not? No matter what your faith, you will love the people in that small NC mountain town. I gave it 4 stars because the beginning moves a bit slowly but Jan Karon knows how to scatter crumbs that keep you reading. And such a variety of characters: JC Hogan, Mule Skinner, Percy Mosely, Emma the church secretary, and on. They are unique and yet just like people you know in real life. I read this many years ago, but decided to read it again. It never fails to charm and inspire me. So go check out this book and start your "life" in Mitford.
Here's a large view of the cover, Click it if you'd like to purchase it.