Lyn Reviews Pat Simmons' Lean On Me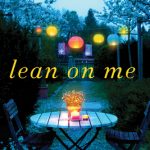 "Romantic, romantic, romantic–the chemistry between Tabitha and Marcus was real. Loved it. Also loved Aunt Tweet–the lovable woman whose memories are slipping away but whose imagination keeps spinning. When Marcus and Tabitha first meet sparks fly but not the romantic kind. But their true characters shine as God puts them to the test. Great read, romance and story of family.
For more info or to purchase, click this cover. Paid Link
Also available on audio!