Lyn Reviews Patrice Greenwood's A Fatal Twist of Lemon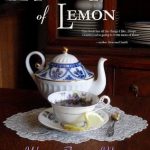 A Fatal Twist of Lemon by Patrice Greenwood
My rating: 4 of 5 stars
This is my first Patrice Greenwood mystery. She writes a well paced and interesting story with a compelling cast of characters.
I loved the setting, Santa Fe, NM. I haven't been there since I was a girl and would love to go back. So far–no go. Sigh…
I especially was interested in the police detective on the motorcycle. He was a bit dangerous so those who like a bad boy hero would enjoy this. I decided to read another book and decide about him and as love interest for the proprietress of the tea shop. Of course if you're going to be an amateur sleuth, having someone on the force can't hurt!
I liked this mystery enough to buy and read her other ones, which shows that I really did like it.
A good mystery and one that left me puzzled till right before the reveal. I like that!
Click cover or small square below to purchase.