Lyn Reviews Robin Lee Hatcher's You'll Think of Me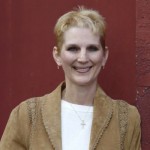 I always enjoy Robin Lee Hatcher's contemporary romances set in her native Idaho. This is such a sweet story of two hearts that need mending and a little girl who deserves a father's love.
I love the small town atmosphere Robin creates (Yes, I know RLH-and I received this book for review but it's my honest opinion.). Two characters, however, are hard to understand: Brooklyn's father who would rather nurse a grudge and wallow in bitterness that love a daughter and granddaughter.
He's kind of a poster child for how not to handle rejection. I kept wondering why Brooklyn's mother left him–was he already a bitter man and that sent her on her way? And I always have trouble understanding a mother who will abandon her child. I know that has become more common but that does not speak well of the direction our society is moving. I'm sure the women who worked to gain women the vote and other rights never included the right to abandon children. But I digress.
The other character that was never explained to me was Brooklyn's first husband. Why did he feel the need to run away with Brooklyn as a teen and then abandon her after they eloped? That secret is never revealed.
However this mystery and the bitter man did not ruin my enjoyment of this sweet mountain romance. If you pick it up and read it, you will be glad you did. I was!–Lyn
To purchse or learn more, click this cover.