Lyn Asks Is Your Summer…Precarious?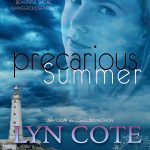 I HOPE NOT! '-) HOWEVER, My book Precarious Summer is on sale for 99 cents down from $2.99 until July 12th.

This may be the only time it's on sale for this low price this year. Already read it? Why not gift it to a friend? Just click the gifting option on any retailer.
Blurb: Faith-filled romantic suspense from a Carol Award–winning author: When an arsonist targets a Lake Superior tourist town, café owner Audra and sheriff Carter team up to uncover the culprit… Book one in a compelling series!
Click here for more info: