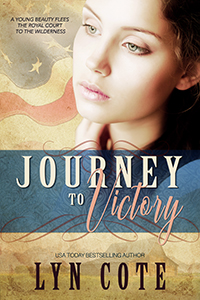 Can a young woman change the direction of her life, reject the station she has been groomed for?
About the Book
All the books in this series are FREE IF YOU SUBSCRIBE TO KINDLE UNLIMITED
Can a woman change the direction of her life, reject the station she has been groomed for?
In the early 1770's, Christiane Pelletier, an extraordinarily beautiful young woman, is next in a line of courtesans who have been favorites at the French court during the reigns of two monarchs. Yet she longs to be the beloved wife of one man, not a lovely piece of human art passed from one noble to another. And the winds of change are sweeping Europe. 
Christiane flees France with her renegade father. In the Canadian wilderness, she survives the shock of leaving a life of wealth and privilege. To escape frontier violence, she moves southward only to become involved in the burgeoning American Revolution. Daughter of a French courtesan to frontier wife to companion of Lady Washington, Christiane moves into the very heart of the American rebel elite. 
But one man in her life can never be forgotten. John Eastham, who'd also left Europe behind, had protected her as the captain at a Canadian frontier fort. Then he'd been a friend. Now when they meet again, he has become the enemy. Both of them must face the history they left behind. Both of them must face the vagaries of war and also of peace. How do enemies lay down arms and forge a future. a dynasty? 
Four generations-a family saga, a young nation's story~
A fascinating book, well worth reading, difficult to put down and gave me a new insight into the early history of the US.—a UK reader

Other Books by Lyn in "The American Journey"
Disclosure of Material Connection: Some of the links in the page above are "affiliate links." This means if you click on the link and purchase the item, I will receive an affiliate commission. I am disclosing this in accordance with the Federal Trade Commission's
16 CFR, Part 255
: "Guides Concerning the Use of Endorsements and Testimonials in Advertising."