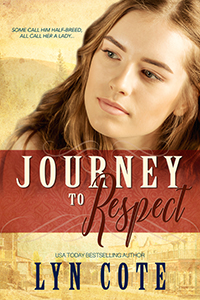 Does Rafe belong with his mother's tribe or on his father's plantation?
About the Book
Does Rafe belong with his mother's tribe or on his father's plantation?
Rafe McKuen, the son of an Osage chief's daughter and a successful American fur trader turned planter, has one foot in each world. Since childhood, he's visited his mother's tribal camp near St. Louis. And at his father's New Orleans Plantation, he's the "invisible" but beloved son. Where will he make his home–in which world?
Miss Eve Holcombe is an Eastern beauty with influential relatives. Her father's unexpected and sudden announcement that they are going West startles Eve and worries her. Why, she asks. But her father has a secret and a plan he won't reveal. He insists she trust him and what other choice does she have? If she stays in the East, her ambitious aunt will try to marry her off to her aunt's advantage.
Both Rafe and Eve are on a journey, a Journey to Respect. But such journeys are rarely uncomplicated or without dangers. And falling in love is the most dangerous of all.

Other Books by Lyn in "The American Journey"
Disclosure of Material Connection: Some of the links in the page above are "affiliate links." This means if you click on the link and purchase the item, I will receive an affiliate commission. I am disclosing this in accordance with the Federal Trade Commission's
16 CFR, Part 255
: "Guides Concerning the Use of Endorsements and Testimonials in Advertising."