Are you on Facebook? Do You Want to "hop AND WIN $?"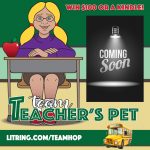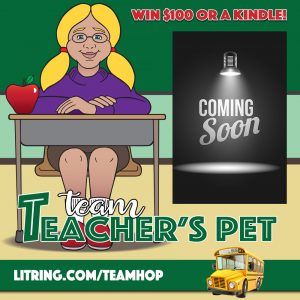 I'm participating in this special Facebook hop promotion.
ONE CAVEAT: The promo is not restricted to just sweet or inspirational authors, so use your own discretion for the authors before following them on Facebook.
Here's the scoop:
It's BACK TO SCHOOL time and we want to know your clique.  Athlete, Slacker, Band Geek, Teacher's Pet, or Prom Royalty, we all have our little groups. But there's one really important thing I bet we all have in common:  WE LOVE BOOKS! And you know what? Winning prizes rocks too. So, hey there, welcome to LitRing's BACK TO SCHOOL Giveaway! By picking sides and entering our giveaway, you could win prizes for yourself AND a pretty awesome promo pack for your fave author too! ENTER TO WIN A KINDLE FIRE OR $100 HERE > https://www.litring.com/teamhop/
I'M A TEACHER'S PET in case you didn't notice!
Here's the process:
See the list of authors and you'll find me near the bottom in the red Teacher's Pet string.

Be sure to click the link to my Facebook page and follow me!

And then sample the other Teacher's Pets!

Terri Reed and Carolyne Aarsen both write for Love Inspired too.

If I get enough votes, I win a promotion package to help me with a new book. So please vote for me!

And I hope you win too!-Lyn