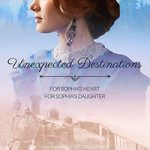 Something Old is New Again!
I have two historical novellas (For Sophia's Heart and Winter Homecoming) that have been my hidden gems. I decided a new cover and a new title might let them shine. Thus I've paired them into a boxed set (the stories are connected by a mother and daughter), titled
UNEXPECTED DESTINATIONS.
And two for a bargain price. Originally the two novellas were priced at $2.99 each,
but the boxed set is $3.99 for both! If you haven't subscribed to my newsletter, click here to do so and get a chance to win a free copy!
Or
For more info or to purchase, click here.