Amish Week Begins With Adina Senft & Why the Kapp & Bob?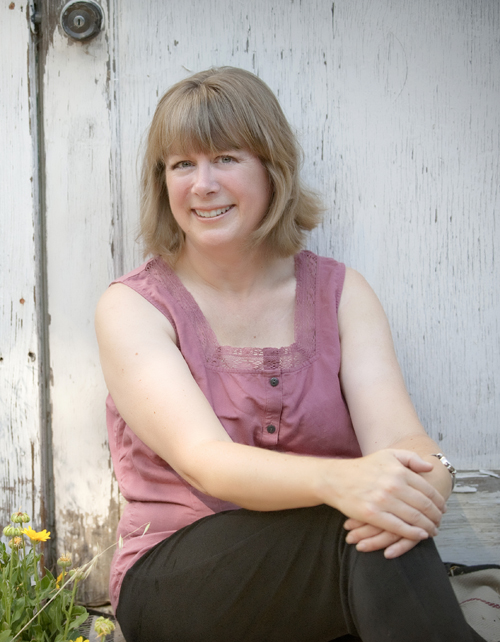 My guest today is author Adina Senft who will discuss her Amish Quilt trilogy. Adina is a personal friend. We were roomies on a book tour in the summer of 2006. She is a fun, interesting and energetic person. And I love whatever she writes BTW, she's offering an autorgraphed copy of the Hidden Life for a reader who leaves a comment! Here's Adina:
"In my travels in Lancaster County researching the Amish Quilt trilogy, I find myself having the occasional blast from the past. I grew up in a plain church—not Amish or Mennonite, but one with strict standards of dress and hair and lifestyle. The sun shines through an Amish woman's Kapp and I see her "bob," or bun, tightly coiled at the nape of her neck and secured with hairpins. Not bobby pins, mind you, because those came in in the 20s when women cut their hair, and are considered worldly. No, these are U-shaped, rippled hairpins, just like the ones I used. I see ladies whose hair is thinning on top from the sheer weight of their bun, just as my mother's once did. I see women in black stockings just like the ones my grandmother had to wear because nude-colored hose were worldly.
And what's the point of all these peculiarities of dress, you ask? The simple answer is: They're signs of submission. In the Amish church, the Ordnung, or unwritten order, dictates (among other things) the appearance of the people. In my church, the "standard" was also unwritten, but it was still plain as day. You grew up learning it and knowing it—and you also grew up knowing how hard it was to keep it. You see, it takes inner strength to submit your will to a rule that you believe is scriptural, especially when it's natural to want to appear attractive—to cut your hair to flatter your face shape, to emphasize the eyes with makeup, to correct skin flaws with foundation.
In my Amish Quilt trilogy, this submission is a daily battle for my Amish characters. In The Hidden Life, Emma Stolzfus has a talent that she could use to make her living. But it's a public talent–and Amish women have no public voice. Part of the story involves her struggle to submit to this, and to try to keep her talent hidden so that she doesn't get into trouble. As one character says, "Obedience is a choice you make every day." You might think it's easier to make that choice if everyone around you is doing it, and that might be true to a certain extent. But it still comes down to "Will I submit or won't I?" and for the Amish, the answer is evident in their dress and how they relate to the outside world.
It's not easy. In many eyes, it's not even necessary. But these strong Amish women depend on God's strength to do it, and that's the important thing."–Adina
Web: http://www.adinasenft.com
Blog: http://www.adinasenft.com/blog
Facebook profile: https://www.facebook.com/shelley.adina
Facebook page: https://www.facebook.com/pages/Adina-Senft/140668956029677
Question to qualify for the book drawing: Most of us don't choose to wear a kapp and bob, but I think we all want to be humble before God. In what ways do you show obedience or submission to God?"–Lyn