Author Annie Jones Tells How She ONCE MORE Found Joy in Writing
Today's guest is one of my FUN friends. Author Annie Jones has a fun outlook and a sassy charm I find invigorating. 🙂 If you haven't visited her zany VINTAGE blog, Dear Helen Hartman, YOU MUST! Here's Annie's story of finding the strength to break free:
"When Lyn invited me to be a guest blogger I had a million ideas about what I would say!  Ideas, all of us writers usually have more than we know what to do with. When those ideas are new and we have the fire for them it's all we can do to keep them under control. But that's what writing is, what good story telling is at its heart — controlling the ideas and crafting them into a form that others can relate to and understand.
Nothing taught me how to do that like writing for the genre romance market. From the category romance (such as Love Inspired) world I learned what I so often teach: Every word must serve the story. It should reveal character, advance the plot or underscore the theme. I love writing like that. Keeping it tight and the focus narrowed on the hero/heroine journey.
But as I branched out into larger books and larger markets I found that instead of allowing storytelling to grow right along with it all, all too often the demands of marketing, editorial preferences and word count became as much a part of writing as the storytelling was! Let me tell you, making every word count is difficult when you have to deliver 90,000 to 100,000 of those words! Then add the idea that there are a whole list of words you cannot use, even in their innocent common usage? YIKES! (Is that okay to say, y'all?)
For me this is the blessing of having back list books in my control once again. Through self- published e-books, I had the chance to do it all again. My words are once again MY words.
In bringing older books a new life the first and most obvious task is updating – it's so funny to read references to cell phones as rare and mysterious inventions! That's the easy stuff. The hardest part was finding all the times when I refused to 'kill my darlings', letting wordy sentences or ever scenes stand (oh, that word count!). I hope not too many of those 'darlings' survived in the wonderful new world of writing I've found releasing my revised books to Kindle!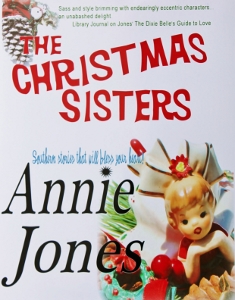 To purchase, click here. The Christmas Sisters
The best part of this new adventure is that having lived with these books and having seen and heard how others responded to them I was able to hone in on the things that mattered most – character, story and theme. It has been a learning experience that I will carry forward in all my writing.
I encourage anyone who has an older book or even unpublished manuscript around to do what I have done. Give it, and yourself, a second chance to tell that story that once burned within you. You won't regret it."–Annie/Helen
I don't know about you but Annie's Christmas book looks FAB! And even if you aren't a writer, I think you can take what Annie said and apply it to almost any endeavor. is there something that used to be fun and has lost that zest? Go back and find that joy.-

-Lyn
What readers are saying about Christmas Sisters:
" I was sad when it ended because I really got to know the characters. "
" It is a story of hope, forgiveness, redemption and standing strong in the midst of challenging circumstances. " Lady Holly
"  This is a heartwarming story that will give you that warm fuzzy feeling clear to the end. "
AND IT'S ONLY 99 CENTS!
BTW, Melody D won a copy of Legacy of Love by Christine Johnson. Congrats!