May I Introduce a friend and excellent author-Jean C Gordon?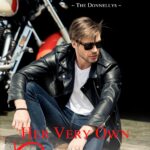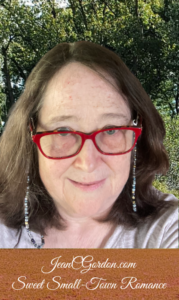 Writing is a natural extension of my love of reading. From that day in first grade when I realized t-h-e was the word "the," I've been reading everything I can put my hands on. I started reading and writing romances as a diversion from my day job writing about technical financial topics and was soon hooked.
My college-sweetheart husband and I tried the city life in Los Angeles for a couple years. But we quickly returned home to our native small-town Upstate New York, where I set a lot of my stories, including my new release, Her Very Own Champion, Book 5 in my Paradise Lake Sweet Romance series. We share a 180 year-old farmhouse just south of Albany, NY, with our daughter and son-in-law, grandchildren, and a menagerie of pets. Our son lives nearby. While I creates small-town sweet romance stories, my family grows organic fruits and vegetables and tends the livestock de jour.
She's never had a champion before. She doesn't need one now.
High school history teacher Becca Norton is too sensible to expect a fairy tale life with a knight in shining armor. But she never dreamed she'd be on her own, a divorced single mother fighting for her kids, her home, and her heart. The last thing she needs is a reformed bad boy on a vintage motorcycle "rescuing" her. And taking her breath away.
Motocross champion and local bad-boy-made-good Jared Donnelly is back in Paradox Lake. He's here to give back to his hometown and polish up the tarnished Donnelly family name. With a motocross school to give needed guidance and encouragement to troubled kids like himself, he doesn't have time for a romance with Becca. She was out of his reach in high school, and with the even more complications of single motherhood, she should be off limits now. Except he can't deny the attraction when old flames fan hot. What starts as simple attraction becomes a complex battle for a happy ever after Jared never knew he wanted so bad.
Jared's hitting too close to home for Becca, with the proximity of his school and the growing connection between Jared and her son. It doesn't matter that Jared's kindness to her and the kids melts her long-frozen heart. She can handle her life and family just fine. She should be pumping the breaks with him, especially considering the brewing trouble with her inlaws over custody of her kids and the bad blood with the Donnellys. No good can come of tangling with the town bad boy, no matter how much he's reformed. Her heart, however, has other plans and is fighting for the happy ending and all the fairy tale feels love has to offer. How high will the price tag be, and is she ready to pay?
Could the best way for Jared to show his love for Becca be to walk away from her and Paradox Lake or to stay and fight—winner takes all? Find out in this engaging small-town sweet romance with a hint of historical family intrigue.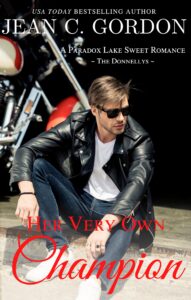 Amazon: https://www.amazon.com/gp/product/B0BR8DT84P
Apple: http://books.apple.com/us/book/id6445249693
Nook: https://www.barnesandnoble.com/w/her-very-own-champion-jean-c-gordon/1142892394
Google: UWmkEAAAQBAJ https://play.google.com/store/books/details?id=UWmkEAAAQBAJ
Kobo: https://www.kobo.com/us/en/ebook/her-very-own-champion-the-donnellys
And More: http://jeancgordon.com
Lyn here!My goodness, Jean. What a great reformed bad boy hero! Sounds like a great romance!