WI Author Jolina Petersheim & Harvest Medley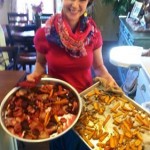 My guest today is a fellow Wisconsinite, though a newbie. Driftless Region she mentions is a very beautiful and scenic farming area of Wisconsin and also is the location of the touristy Wisconsin Dells. Here's Jolina:
Self-Sufficient lifestyle
I never knew I'd soon be attempting a "self-sufficient life" when I started writing my third book, The Alliance, which revolves around an Old Order Mennonite woman whose pacifist beliefs are called into question as she struggles to sustain her family in a post-Apocalyptic state.
But maybe God was trying to help me transition from our dream home in Tennessee to a solar-powered farm in the Driftless Region of Wisconsin. Regardless, I am grateful for this transition and for this new way of life.
Attempts to live efficiently
Here are a few ways we're attempting to live "efficiently."
For nine months (most of them in winter!), I've been hanging my clothes on the line.
Our water—in the summer—is heated by our solar-panels and is actually scorching if we don't add cold.
I've started making my own yogurt with milk from a local dairy farm (who knew that an oven could be an incubator, 'cause I sure didn't!).
My husband recently butchered our cornish X rocks (I was too chicken – pun! – so just stood around and watched); and for weeks now we've been harvesting a bounty of radishes, lettuce, beets, carrots, onions, zucchini, squash, and tomatoes.

Since I've been trying to live off our garden as much as possible, I will share one of my favorite (and very simple) recipes that our family's been eating about twice a week this summer.
Harvest Medley
Beets have gotten a bad rap.
I, for one, know that I abhorred them as a child and quickly passed the relish tray whenever they were presented to me at Thanksgiving or Christmastime.
However, I love them roasted with sweet potatoes or carrots and red onions. Not only do they look beautiful together (all that vibrant color!), they are delicious and good for you!
First, you harvest the beets, carrots, and onions from the garden. (

Sorry, Jolina, I live in the woods even a fence can't keep the critters out! I tried.)
Keep a kitchen knife with you because it's easier to hack off the leaves and toss them on your compost pile rather than dragging all that dirt into your house. 

(Raccoons eat my compost. Sigh…)
Scrub the beets and carrots free of more dirt and then peel.
Use a mandolin slicer to dice the veggies, but be careful not to nick your fingers (my husband can't even watch me do this because I've had one too many close calls!).
Layer the veggies on a baking sheet, drizzle with olive oil, maple syrup (if you want the beets more sweet than savory), sea salt, and pepper.
Convention bake at 375 degrees for one hour, mixing the veggies every fifteen minutes.
That's it! If you really want to have fun with this, you could place these veggies on a salad with some fresh warm peaches, toasted almonds, buttermilk ranch dressing, and goat cheese.
I'm not kidding! I had that concoction at my favorite local restaurant where I write once a week, and it was delicious!

Bon appetit!
my friends! I hope you this post encourages you to live a simple, beautiful life and to also give beets another try!–Jolina
And here's her latest book, the sequel to The Allicance. Click the cover to purchase or learn more.–Lyn