2022 Christmas Scavenger Hunt Round-Robin: Mavis's Forever Christmas
Another fun scavenger hunt
and lots of new Christmas books to investigate.
Merry Christmas! Welcome to the Christmas Christian Fiction Scavenger Hunt! START MONDAY DEC 5TH~
Here's how it works: At each author's blog post, you will find a question that can be answered by checking out the free Amazon preview of their book. Provide the answer at this form.
Note: You must answer the questions for every author in the round -robin to be considered
to win the $200 first place,
$100 second place
or $75 third place Amazon gift cards.These prizes are USD values.
If you are not a U.S. resident, you will get a gift card from the Amazon store for your country; however, it will be valued at these USD amounts.)
At the end of my post is a link to the next blog, who will provide a link to the next blog, etc., to the very end, creating a circle (a round-robin) visit through all of the authors' blogs. I think that sounds like FUN! And I think the generous prizes are worth trying for!
Now here's the scoop about my Christmas story Mavis's Forever Christmas.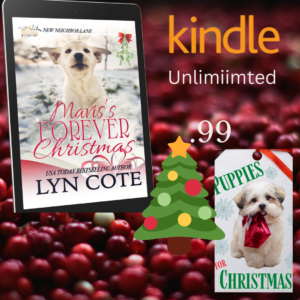 Is falling in love only for the young? 
Never married, Mavis, a retired college librarian, has made a new life for herself near her "adopted" niece Ellie. Over a year ago, John lost his wife, who was Mavis's best friend for nearly forty years. He has spent the intervening time traveling with his trailer. When Ellie faces complications of a difficult pregnancy, John and Mavis pull together to help her and her family. But new feelings and attraction come unexpectedly, surprising them both. Is falling in love a betrayal of a wife or best friend? 
I had a lot of fun writing this book with a stray dog and puppies and a family pulling together in a stressful time. Aren't those the times that pull us together as much as the happy times?
The question you need to discover by going to Amazon and clicking this link to my book. There just above the cover, it wil say LOOK INSIDE. Click those words and the book will open. (This doesn't cost anything) Begin reading until you find out: WHO IS KERRY ANN? That's the answer you need to find. (See below for Look Inside.)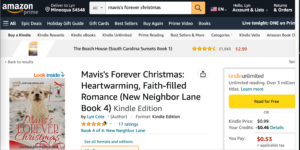 When you have the answer, FILL OUT THIS FORM and head on to the next blog!
Thank you so much for visiting! The next author on the tour is my friend Winnie Griggs, who is telling us all about her Christmas book His Christmas Matchmaker. You can find it at this link. Remember that the round-robin will end on December 11th at 11:59 PM EST! I hope you have fun with this and win!–Lyn