Cicely's Hats By Author Janet Chester Bly, THE END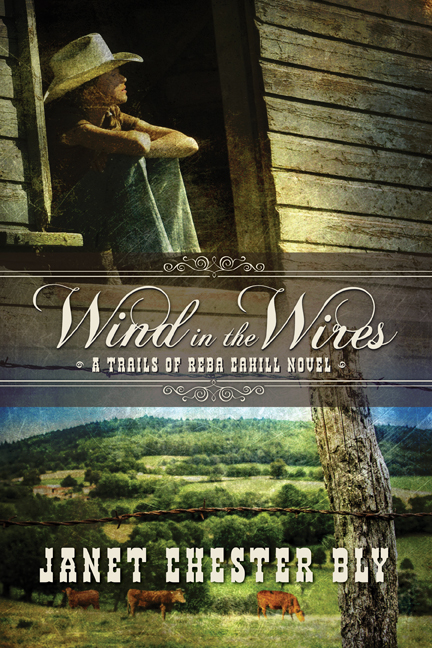 Here's the rest of author Janet Chester Bly's short story "Cecily's Hats" to promote her newest book Wind in the Wires
Book blurb: Reba Cahill searches for her runaway mother as she hopes to find a rancher husband. A grieving old man seeks justice for his family. They take a journey together that exposes dark secrets. And several cold case murders. Will the truth be too tough for Reba to bear and ruin her chance for romance?
Short story  continued–
The marriage lasted seven months. A bed of bitter roses.
"He doesn't know how to treat a woman," Trish remarked.
"I can't keep up with the credit card spending," Davis retorted.
Trish announced she was pregnant and took Becky with her to St. Louis, no forwarding address. Neoma and Hank didn't see Ned until he was three years old. Davis, meanwhile, moved to Las Vegas.
"Did you wear hats when you were my age?" Becky asked Cicely.
"Oh no, I was an old lady of forty-three when I put on my first one. A woman I worked for asked me to do modeling for a client of ours at a charity fashion show. I didn't know until I got there that I would be modeling hats.  Every time I sauntered down that runway, I became a different woman. I believed I could charge the world. The client let me buy any hat I wanted at a discount rate. I bought them all, quit my job, and set up my own hat shop and made more money than I ever wanted."
"But how did you get to Road's End?" Neoma asked.
"One day I packed all my hats and aimed east. I wanted to see new sights. But my car heated up climbing the Winchester grade. I limped into Road's End, saw this house for sale, and never got any further. It's felt like home ever since."
Becky twirled once in front of the mirror. She clutched the sides of the panama and made a slight bow, her face as rosy as her hair. "Mama likes hats. I wore one at her wedding."
"Yes, I know. I was there," Cicely reminded them.
"You were at Grandpa's funeral too."  Becky stole glances at the panama as Cicely tucked on a green band and bow. "He had a heart attack. I think Mamma did too, though she didn't die. She ran away instead."
Neoma's pulse quickened at the first time she'd heard her talk that much about Trish and what she did.
Cicely untied the yellow hat and slid on a black one with yellow polka dots. "Your mamma couldn't deal with her sorrow. And some people don't know how to embrace joy."  Cicely cocked her head toward Neoma. "In grief and in happiness, we're often quite alone."
"You've got a charmed kind of wisdom," Neoma remarked.
"All the better to soar above this little scene of things," Cicely replied.
Neoma was startled into a sudden grin. "You know the old poets."
Cicely chuckled. "I've got lots of time for reading here at Road's End. I've got lots of time for anything I want. And you can keep the hats. My present."
That afternoon it seemed as though a herd of wild horses stampeded the roof. A white plague of hailstones salted the yard. Neoma groaned under the weight of a migraine and napped on the rec room couch. Cicely taught the kids to play Hearts and took them into the forest for mushroom hunting. They smelled of wet wood when they returned.
"Hank seemed so weary those last months." Neoma pushed a broom around the kitchen floor after dinner. "He went to bed exhausted and woke up tired. The morning of the heart attack he was on his way to some kind of business meeting. He dreaded them. . .the friction, the controversies. Hank tried to be the peacemaker, but at a great price." Neoma stopped to watch Cicely bang the dishwasher shut. "Hours later I was at his bedside when the deep lines in his face slowly etched out. He heaved a last shudder and was gone. A year ago tomorrow."
Cicely lowered her head. The hat and its brim covered her face. "I was there when all three of my husbands left this earth. With my daughter too. Leukemia, you know, like her father."  She raised up, a spunky look in her eye. "Some folks think I wear these hats to attract a man. They're wrong. I wear them to declare my delight in living, my gumption. It's who I am."  She paused. "Who are you, Neoma?" She said it soft like a whispered prayer.
Neoma stared at this whimsical woman who resided in this conventional house in this curious little village. "No one has ever asked me that before. She cleared her raspy throat. "I don't know. I can't relax and just be the kids grandma. I've got to be both mother and father. I think I could have done it with Hank's help." She stopped a moment and then offered a half grin. "I used to paint, years ago."
"Paint? What kind of painting?"
"Oils and water colors, mainly. I've got a dozen canvasses shut up in a storage shed. Bowls of waxy fruit. Sprays of brambly roses, that sort of thing. And one of Trish on her baptism day. That was the last painting I did."
"Maybe you'll paint again. Sometimes life is like a culdesac, the only way out of a tough situation is retracing the way you got in." Cicely's eyes clouded in deep thought.
"My way is to keep plodding forward, one foot in front of the other." Neoma scanned the rec room. Two rapt faces stared at a video screen. Ned sucked his finger while Becky wound ringlets in her straight red hair. "The day of the funeral Trish divulged to one of her father's longtime friends that she owed a score of debts. She said she wanted a fresh break for her and the kids. The man had some means. I'm sure he was caught up in the emotion of losing Hank and mindful of the Scriptures that say to give to those who ask. If he had come to me first, I would have warned him. However. . ."
Neoma stood very small in the room. She frowned as the pain shot through her, sharp, unrelenting. "He bailed her out. And I don't blame him for it. But she took the money and we haven't heard from her since."
Cicely paced the room, her thin arm rubbing her chin. "Some children take a long time to grow up."
"One assumes they will become adults." Neoma leaned on the broom handle. "And care for their own. And give the older generation a break."
"What will you do after your pilgrimage to the Pacific?"
"I've got to find a place big enough for me and the kids, a place we all like, and a place where. . ."  Trish could find us, if she wanted to.
"Wasn't the house you had adequate?"
Neoma took a deep breath. "The friend who gave Trish the money found out he had cancer a month or two after. Medical bills were eating up their retirement savings. I sold the house to pay him back."
Cicely frowned, closed her eyes, and spread her hands on top her hat.
Neoma tucked Ned in bed and read him a chapter from C. S. Lewis' Narnia Tales. Becky covered her head and pretended not to listen. When Neoma turned out the light, Becky called out through the wispy darkness, "Maybe Mom called today."
Neoma was glad Becky couldn't see her face. The tears rose from a deep well within her. She closed the bedroom door and stole into the rec room. She listened for a long time in the lone silence, crouched on the floor, arms cradled around one of the black ottomans until her legs cramped beyond pain.
There had been no time to grieve Hank's loss. No place alone to weep. No moments to deal with past memories and future lost dreams. There were the children and their constant needs along with long hours at the library job, working a full schedule instead of part-time.  Now, she felt nothing but acceptance of duty. She kept leaving the windows of her soul and hit a dead end. She imagined Trish in her white baptism dress, then in her wedding gown, full of hope, full of promise.
Some time later she slipped down the hall and picked up the receiver. She punched the numbers without hurry, her evening ritual. She listened to the rings, heard the click of the machine. It was Hank's voice again:  "You have reached the Hocking residence. We cannot come to the phone right now. God bless you." Then the beep.
Neoma placed the phone in its cradle. She sensed someone peering through the darkness. Neoma flipped on the light. She noticed them right away. Three paintings hung on the wall in front of her. In the center was Aunt Cicely's house and fence. On the right was a close-up of the glass over the front doors with etched angels and ivy. The left painting wasn't complete yet. The backyard was peopled but in a shaded, impressionist style. Cicely's unmistakeable form stretched out on the wooden swing. Shadows ghosted the other shapes. Neoma recognized a touch of her own style, but also a flair of light all the painter's own.
Cicely stood beside her dressed in red tights, barefoot, hands behind her back. "Look at the signature."
Neoma stepped forward. She tried to read the scrawl of the autograph: Patricia Rebecca Hocking. Trish? "I don't understand."
"Before I explain, I must ask you a question."  Cicely studied her niece's face. Neoma felt faint. "Do you want contact with your daughter?"
"Of course. I call home every night in hopes of a message from her. The children need her."
"But are you ready to see her, to talk to her?" Cicely prodded.
Neoma rubbed her pounding forehead. "She has disappointed me, humiliated me. She's abandoned her marriage and her children. She's abandoned me." Yes, that's it more than anything. "She left me when I needed her most, her caring and comfort, her love and honor as a daughter. She dumped me with her own added obligations." Neoma studied the pictures again. The house with the backyard meant for playing and swinging. The lady of the house with her enthusiasm for life. The glass angels. A quiet rage began to grow. But before it could fully erupt, it slowly died. She felt spent, used up. "I didn't know she could paint like this," she commented.
"Neither did she, until a few months ago."
"What do you mean? Did she send these to you?" Neoma stared hard again at the paintings.
"You haven't answered my question."
Neoma searched for some clear words through the fog of confusion. "I do want to know what she has to say. I want to listen to her explanations. Find out what she's been doing."
Cicely sat on one of the black ottomans and pulled Neoma down next to her. "Trish was here several months this spring, doing chores for me. She vacuumed your rooms and changed your beds. She left a week ago."
"But why didn't you tell me? Why didn't you call right away?"
"She didn't want me to. She's so ashamed."
"Where is she now?"
"In Reno. She found a job there through a friend of mine." She paused. "I have her phone number."
"Reno's a few hours west of Winnemucca."
"If you want me to, I'll tell her to leave a message for you at the St. Joseph house. Perhaps you could all meet somewhere in Reno."
"I don't know. It doesn't matter. I don't expect her. . ."  Neoma's voice trailed away as she chilled under the reality of facing her daughter.
"She'll do it," Cicely said.
"How can you be so sure?"
"Because of the black beret she wore when she left."
Neoma tossed and turned all night but finally drifted into dreamless peace.
The next morning the kids piled into the back of the truck, each wearing their Aunt Cicely hats. Neoma fondled the gardenia with its vintage blossom. She eased it on her head and tugged it into a snug fit. "They don't wear these in St. Joe," she told Cicely.
"You could wear that anywhere, anytime, if you really wanted to. Even in front of two easels out on a California beach. . . with Trish."
They backed the trailer up the way they came in. Cicely waved and ran after them down the dirt road until the truck hit pavement. Neoma and her grandkids headed to Winnemucca and due west to Reno.
So hope you enjoyed this short story. If you did, drop by Janet's
Free stuff, blog & store: http://BlyBooks.com
On A Western Trail Blog: http://BlyBooks.blogspot.com
Almost Monthly Newsletter Sign Up: http://bit.ly/1i82Kah or
http://www.blybooks.com/contact/stephen-bly-books-newsletter/
and find out what else she has for you!–Lyn