Author Carrie Turanksy & Her Brave Daughter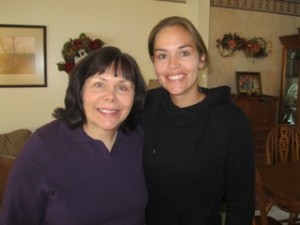 My guest today is Carrie Turansky who also writes for Love Inspired, but she is sharing today about her daughter and her latest book, not a LI. Here's Carrie:

"One of the strongest and bravest women I know is my daughter, Melissa Morrison. She is very much like my heroine, Jennifer Evans, in my newest novel, Surrendered Hearts. They are both adventurous, artistic, and creative women. Melissa wrote the following blog post soon after arriving in Sudan where she and her husband Peter help oversee a hospital operated by Samaritan's Purse.
We stepped through the door of the small UN plane and out onto the dirt airstrip. The rush of heat instantly hit my cheeks so intensely it reminded me of opening the oven door mid-cookie-baking to check on the gloriousness. We grabbed our backpacks and jumped in the Land Cruiser. During the ten-minute ride to the compound I couldn't help but notice the monochromatic landscape. It looked like a rocky Sahara, just dust and sand everywhere.
We had arrived in Sudan during the last few weeks of the dry season, the hottest time of year, and the earth all around us seemed to be screaming for water. The only pops of color on the sandy canvas were the women gracefully swaying as they walked down the side of the road swathed head to toe in bright solid colored fabric – turquoise, canary-yellow, red, orange. They reminded me of Indian women in beautiful saris. Occasionally, we would pass a man in his white long flowing jallabia, which looks like a robe and matching white turban.
We pulled into the compound and headed back to what would be our house for the next year to unpack. This is our tukul (pronounced too-kul).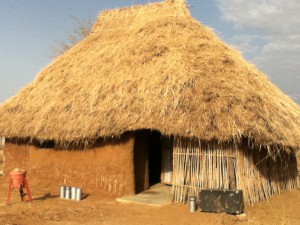 It has mud walls, cement floor, and a straw roof. It is one large room with an adjoining porch area. I have found over the past couple moves that it really help to make our house or room (whether it is a mud hut, army tent, or cement room) into a space that is a place of beauty and rest. You may get sweaty and dirty and fight battles all day, but if you can come home to your peaceful space it changes everything. My mother passed on the aesthetics gene to me, which basically means that it really affects my mood if the curtains clash with the bedspread. I cannot just cut the vegetables and put them on the table. I have to arrange them in a way that is beautiful. So in my 20-kg allotment of luggage, I sacrificed some clothes to instead bring funky Indian fabric, some silk to put on our bed, maps to hang on the wall (to plot future shenanigans), pictures to put around, and a candle that cost something ridiculous like $26 from Anthropologie. So even if you are in a mud hut, dirty and sweaty, if you close your eyes and breathe in deeply you feel like you're somewhere deeply luxurious. It's the little things.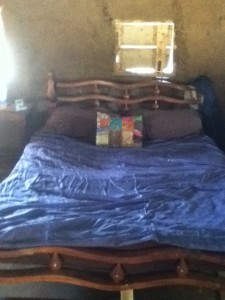 That first evening we both got in bed to try to go to sleep. It was only 8:30pm, but we were exhausted. The temperature on our wall clock said 103 degrees. I don't know if I have ever sweated quite so much doing nothing. Between the heat and our door latch not working and randomly blowing open every few hours promptly scarring us half to death, we didn't get much sleep. But now a week in I must say I am quite attached. We have a dog named Buddha, a goat named Brutus, and a tukul that while it has walls of mud, also has swatches of silk- what more could a girl want?"–Carrie
To follow Melissa and Peter's adventures in Sudan, check out her blog:
http://www.musingsandzest.com/
To learn more about Carrie's books, visit her blog: http://www.carrieturansky.com/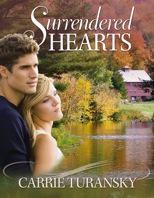 Here's a summary of SURRENDERED HEARTS:
Jennifer Evan's life changes forever when a gas pipeline explodes, starting a fire at her apartment. Losing her home and beloved dog are terrible blows, but the ugly scars that cover her arm, neck and shoulder steal her confidence and cause her fiancé to desert her. With her funds depleted and her job on hold, she heads for Vermont where she hopes to reconnect with her brother and find a way to rebuild her shattered life. Bill Morgan, a strong and quiet man whose faith runs deep, challenges her view of God and faith. Will she hold on to the pain of her past, or will she surrender her heart and find the faith and love she seeks?
Thanks, Carrie. You have an amazing daughter, but you knew that! And I'm excited about your new book which is available as an ebook only.  Carrie is going to add a copy of her latest Love Inspired Seeking His Love to my Mega May Basket and she will also include a coupon for Smashwords for a free copy of Surrendered Hearts. Thanks so much, Carrie. Ladies, why not leave a comment encouraging Carrie's daughter. I'm sure Carrie would pass it on!–Lyn
Tweet