Author Patti Lacy Interview-The God Connection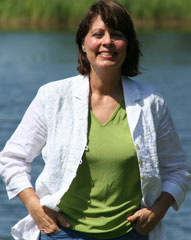 My guest today is Author Patti Lacy who is going to take us
Behind the Book Scenes with Patti Lacy
I. Where did you get the idea for this book?
Sigh. I'm about to let you in on a secret. After all, my tag line's "Spanning Seas and Secrets," and it fits me like my ratty but beloved old bathrobe.
Do you suffer from rapid-fire, random synapses? Join my club, folks! As described in more detail on Seekerville's 9/11 post (http://seekerville.blogspot.com), I construct my novels by taming and corralling swirling brain "Twitters." With God's help, they're woven into what I hope will be a page-turning book. For my fourth literary baby, Reclaiming Lily, the process started in a heart-rending way. If Jesus's words, "In this world, you will have trouble," resonate with you, READ ON!!!!!
In 2009, my mother contacted a physician named Dr. Chang for a medical procedure…and discovered a "God" connection. Years ago, my parents had taught English in Dr. Chang's city. After that medical procedure, my mother awoke from anesthesia to find Dr. Chang in tears, saying, "You have cancer. But from this moment, you will be my American mother, and I will help you beat this."
Our family embraced Dr. Chang, who shared the story of how she and her sisters saved their parents following their release from a Cultural Revolution era prison. I now had the multicultural and historical links that give breath to my stories.
Because both of my brothers are adopted, the questions swirling about that process fascinate me. Where's that other family? Why did they place their precious swathed bundle into the arms of other folks? Since my parents had served in China, I was drawn into the "Lost Daughters" phenomena that has gained worldwide attention since the doors of China's orphanages have been flung open. The seed of my character Lily/Joy germinated by a combination of those two interests.
A friend's battle with PKD (polycystic kidney disease) provided the Jodi-Piccoult-like crisis that sizzled conflict through my story. Reclaiming Lily was born! After my agent's tear-down and rebuilding of my proposal, e-mails zipped into publishers' "in" boxes. I later signed a contract, traveled to China, and turned in my rough draft on November 15, 2010.
My adoption information is taken directly from the files and life of a friend who shared her daughter's journey from China to central Illinois. I also read over twenty books about China, its history, its people, with a focus on those lost daughters. A key resource was The Waiting Child by Cindy Champnella.
Whew! If it sounds complicated, IT IS! Writing on other countries demands research, patience, and a willingness to bend old mindsets.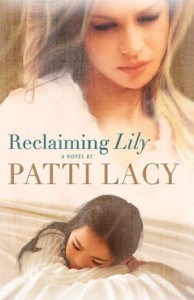 About the Book
A storm the size of Texas brews when Gloria Powell and Kai Chang meet in a Dallas hotel. They have come to discuss the future of Lily, the daughter Gloria adopted from China and the sister Kai hopes to reclaim. Kai is a doctor who had to give up her little sister during the Cultural Revolution and has since discovered that an inherited genetic defect may be waiting to fatally strike Lily.
Gloria's relationship with her daughter is tattered and strained, and the arrival of Kai, despite the woman's apparent good intentions, makes Gloria fearful. Gloria longs to restore her relationship with Lily, but in the wake of this potentially devastating diagnosis, is Kai an answer to prayer…or will her arrival force Gloria to sacrifice more than she ever imagined?
About the Author
Patti Lacy graduated from Baylor University in 1977 with a BS in education. She taught at Heartland Community College in Normal, Illinois, until she retired in 2006 to pursue writing full time. She and her husband, Alan, have two grown children. Visit Patti at http://www.pattilacy.com.
That's really interesting. Have any of you read any of Patti's books?–Lyn
VISIT THE FULL BLOG TOUR SCHEDULE AT http://bit.ly/ReclaimingLilyVirtualBookTour.