Lyn's Got a Deal for You!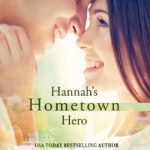 Good news. My book Hannah's Hometown Hero will be on sale for only $.99 through the 10th.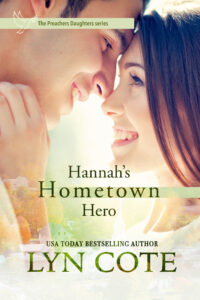 Can a shy girl find her moxie and win her hometown hero?  Or "let" him win her?
Here's a glimpse:
"Guthrie couldn't speak.
Reaching over, he pulled Hannah to him. He just wanted to comfort her. But the feeling of her softness in his arms went to his head. He kissed her hair, fragrant of spices, then her eyebrows. Her eyes closed. He kissed her eyelids, first one, then the other. Petal soft. Such softness brought feelings, emotions bubbling up from deep inside him.
Tilting up her chin, Hannah smoothed back his golden hair, then rested her hand on his chest.
A warmth, healing and vital, flowed through him like a cleansing prayer. 'Hannah, you're a wonderful woman. You make me believe…' Maybe he might get a second chance, after all."
Here's one reader's review
"Hannah's Hometown Hero is a Christian, heartwarming, inspirational romance. I would like to give this book 10 stars but, of course, that is not allowed. The characters and plot in this well written book really resonated with me. Hannah found a much richer life when she turned everything over to God. Guthrie's aunts add a very special touch to this awesome book. Guthrie reminded me of someone who has a servant's mind. You really do not want to miss this book. I could not put it down."
Lyn here~Yes, you don't want to miss Guthrie's eccentric great aunts—Patsy and Penny—a hoot and a half! Click here for Hannah's Hometown Hero.