The Day for La Belle Christiane Has Come–At Last!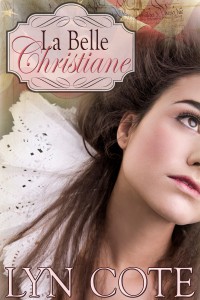 Many of you have followed the first story of my heart, La Belle Christiane. Earlier this year I posted it a scene at a time on this blog. I got great reader feedback and encouragement. Here's how and why I decided to go ahead and publish this myself.
The Story Behind Lyn Cote Self-Publishing La Belle Christiane
About La Belle Christiane, my very first manuscript never published till now!
When I began writing my first manuscript, I literally ran after my two toddlers with a clipboard in my hand and wrote whenever they paused! I wrote that story without knowing anything about writing or marketing fiction. In fact, I told myself just to write the book and then I'd think about polishing and marketing it. The thought of that was overwhelming at that time. It took me three years of writing to finish my first manuscript-1,000 handwritten pages. Whew!
I found out that while it garnered interest from agents and editors, it never found a publisher. I think that's because there are "unwritten" rules for inspirational fiction and I didn't know them or follow them. I still think it's a good story and I've revised it and improved it once more. I did this because I didn't want it to sit ignored in my files forever.
Now at long last I can offer it to readers both in print and for ereaders. Here's how to get your copy.
For Print Edition
To buy a print copy   https://www.createspace.com/3669135
For a limited time only I'm offering an introductory discount code for $3 off $15.99 print edition, go to up click Contact and email me for the discount code.

For Digital Editions
I'm offering also offering a limited time introductory price of 99 cents for the ebook only. (I'm sure you understand the price difference between ebook and paper editions. Print books just cost more to produce because of the cost of paper, ink, printing and postage.)
BTW, you don't need an ereader to dowload Kindle books. Amazon provides free software so you can read Kindle ebooks on your PC. Just go to http://amzn.to/neGyOP and then look to the right column for instructions.
For Kindle Readers link   http://amzn.to/neGyOP
For All Other Ereaders such as the Nook purchase link
http://www.smashwords.com/books/view/92021
So the long journey to publication has been accomplished! If you've enjoyed the book, I hope you'll tell your friends on Facebook, Twitter, GoodReads, at your book club and library. Thanks so much for all those readers who encouraged me–you made me stick to it to this happy ending–Lyn