Author Renee Ryan & Courting the Enemy (& #bookgiveaway)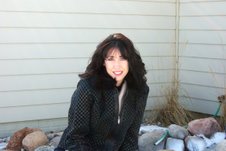 My guest today is Author Renee Ryan who is going to tell us how to "strong" up a heroine! Here's Renee:
"Good morning, Lyn.  Thank you for having me today as your guest.  I always love stopping by and chatting.  Today, I'm going to talk about the heroine in my latest Love Inspired Historical release, COURTING THE ENEMY.  The book is set in 1943 Florida, when the United States was in the heat of WWII.  My heroine, Savannah Elliott, definitely qualifies as a strong woman.  But I'm embarrassed to say she didn't meet the necessary requirements in the first draft of this book.
COURTING THE ENEMY is about an American woman (Savannah) who finds her loyalties divided when a Nazi war plot to sabotage U.S. shipyards pits the man she calls father against the man she loves.  Neither is who he seems, but only one is guilty of treason.  Lots of conflict and tension, yes? Well, I certainly thought so.
You see, Savannah is the bookkeeper for one of the targeted shipyards.  Surely that was enough to make her a strong heroine.  After all, at the time very few women worked in the male-dominated field of accounting.  Unfortunately, my editor pointed out that Savannah appeared weak in the story.  She had no real purpose.  She was merely floating through life, allowing the events of the story to drive her actions.  After a second glance I realized my editor was right.  Once I gave Savannah a purpose beyond herself, she became a strong heroine.  She no longer reacted to the events of the story.  She took charge and even drove much of the action herself.
When I was rewriting Savannah's character, I came across the story of Peter's mother-in-law.  The text reads: Now Simon's mother-in-law was suffering from a high fever, and they asked Jesus to help her. So he bent over her and rebuked the fever, and it left her. She got up at once and began to wait on them.  Okay, I don't know about you but this woman perplexes me.  She's on her death-bed, literally, and yet after one encounter with Jesus she's not only healed but she gets right out of bed and immediately begins waiting on Him.  Talk about a strong woman living the kind of victory meant for every one of us.   I could learn a thing of two from this woman.
All too often, I find myself more like my first version of Savannah instead a brave, modern-day version of Peter's mother-in-law.  I tend to let life happen to me instead of living every day to its fullest. I let life's hurts keep me from serving my Healer. Finger-pointing, excuse-making, playing the blame game, such easy choices when life gets hard.  The truth of the matter is that we live in a fallen world.  Life here on Earth will never be perfect.  But it took a revision letter and another look at Peter's mother-in-law for me to learn that Christ wants all of His children to live in victory on a daily basis.  Now if only I could remember that more often."–Renee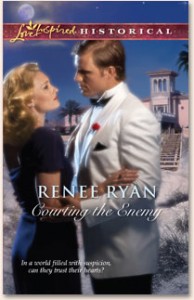 September 2011, the next in my WWII series Courting The Enemy
Mission Irresistible
His assignment: woo the beautiful widow. Savannah Elliott's father is a suspected Nazi sympathizer. Gaining her confidence could help undercover agent Trent Mueller derail a plot to sabotage the U.S. war machine. With so many lives at stake, the undercover agent can't afford to feel guilty at his deception. Nor should he find himself captivated by Savannah when her very allegiance is in question…
In war, trust is a luxury. Yet Savannah is appalled to learn that her own father is a suspected traitor. By working with Trent to discover the truth, Savannah hopes to prove her father's innocence. But if Trent's hunch is right, can love withstand the ultimate test of loyalty?
Yes, Renee, a good editor is worth her weight in gold! I count on my editor Tina James to help me see what I missed in my own stories. 🙂 What do you think of Renee's chosen historical setting? Are WWII stories of interest? Why?–Lyn