Honor, Book One of my "Quaker Brides" series-Excerpt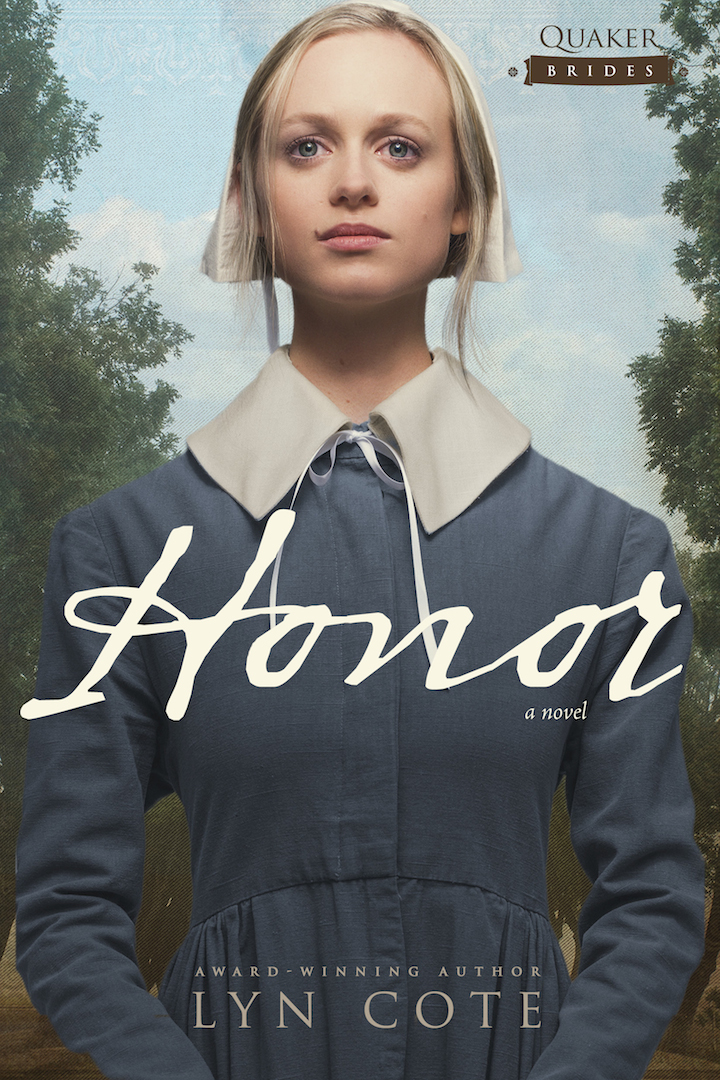 I'm pleased to share Honor, Book One of my new "Quaker Brides" series. Here is Scene One. Remember to leave a comment. I'm giving away 2 copies this week!

Chapter One, Scene One
High Oaks Plantation
Tidewater Maryland
August 1819
Each time her grandfather struggled for another breath, Honor Penworthy's own lungs constricted. She stood beside the second story window, trying to breathe normally, trying catch a breeze in the heat. Behind her, the gaunt man lay on his canopied bed, his heart failing him. How long must he suffer before God would let him go on?
Outside the window stretched their acres, and the tobacco fields where dark heads covered with kerchiefs or straw hats bent harvesting the green-speared leaves. High Oaks–to her the most beautiful plantation in Maryland. She felt a twinge of pain, of impending loss.
"The edict was impractical. And your…father was a dreamer. But at least, he had the sense to realize his irrational decision must be kept secret. Doesn't that tell you not to carry it out?" Each word in this last phrase slapped her and each cost him.
Unable to ignore this challenge, she turned. In her grandfather's youth, the Society of Friends had dicatated that all Friends should free their slaves. "My father remained Quaker," she said the bare words in a neutral voice, trying not to stir the still smoldering coals.
"I remained a Christian," he fired back. "My forebears chose the leave the Anglican church to become Quaker. I chose to change back."
He'd made that choice because the Episcopal church didn't press its members to emancipate their slaves. All of the other Quakers in their county had left except for a few older infirm widows, women who'd had the control of their land left to sons. As a single woman, however, Honor could inherit and dispose of property legally.
Honor returned to his bedside. At the sight of her grandfather's ravaged face, her pity and love surged.
At her approach, her grandfather's mouth pulled down and his nose wrinkled up–as if he were tasting bitter fruit.
Torn between her love for her father and her grandfather, she didn't want to fight with him, not now. "My father loved thee," she said to placate him.
"That is beside the…point. He should never has asked that promise of you. It was cowardly." He panted from the exertion.
She gazed at him levelly. The memory of her father's untimely death still had the power to sweep away her calm but one couldn't change history. Her grandfather's comment could lead them into harsh recriminations. And proved that he knew he'd done wrong and he'd chosen the wide way, not the narrow gate. She chose her words deftly. "I believe that my father was right."
Her grandfather's mouth tightened, twisted not only because of her recalcitrance but also from a sudden pain. He gasped wildly for breath.
If only it weren't so hot. She slipped another white-cased down pillow under his chest and head, trying to ease his breathing. She blinked away tears, a woman's weapon she disdained. "How will you…work the land without…our people?" he demanded in between gasps.
"Thee knows I cannot. And that once they are gone, there will be no way I can hold the land." She said the words calmly but inside fear frothed up. Freeing their slaves would irrevocably alter her life.
He slapped the coverlet with his gnarled fist. "This land has been Penworthy land for four generations. Will you toss aside the land your great-great grandfather cleared by hand and fought the Cherokee for?"
She felt the pull of her heritage, a cinching around her heart. "I know. It weighs on me," she admitted.
"Then why do it?"
He forced her to repeat her reasons. "I gave my father my promise and I agree with him."
Her grandfather made a sound of disgust, a grating of rusted hinges. Then he glared up at her from under bushy, willful brows. "Things have changed since your father left us. Did you even notice that our bank failed this year?"
The lump over Honor's heart increased in weight, making it hard to breathe around it. "I am neither blind nor deaf. I am aware of the nationwide bank panic."
"Are you aware that we've lost our cash assets? We only have the land and the people to work the land. And debts."
"Debts?" That she hadn't known.
"Yes, debt is a part of owning a plantation. And I'm afraid last year's poor crop put us in a bad situation even before the bank panic."
Honor looked into her grandfather's cloudy, almost blind eyes. "How bad?"
"If you free our people and sell the land, you will have nothing worthwhile left."
A blow. She bent her head against one of the posts of the canopied bed. The lump in her chest grew heavier. "I didn't think emancipation would come without cost."
"I don't think you have any idea of how much it will cost you." Disdain vibrated in each word. "If you free our people and sell the plantation, who will you be if you aren't the lady of High Oaks?"
She looked up at the gauzy canopy. "I'll be Honor Penworthy, child of God."
"You will be landless, husbandless and alone," he railed. A pause while he gathered strength,  wheezing and coughing.
Honor helped him sip honey water.
"I don't want you in that vulnerable position," he said in a much gentler tone, his love for her coming through. "I won't be there to protect you. You think that Martin boy will marry you, but he won't. Not if you give up High Oaks."
Alec Martin had courted her but no, she no longer thought they would marry. A sliver of different pain pierced her.
The floor outside the door creaked, distracting them. Honor turned to hear footsteps she recognized. "Darah?" she called.
"I want to see her," Grandfather said, looking away.
Honor moved quickly and opened the door.
Darah paused at the head of the stairs. She was almost six years younger than Honor's twenty-four years, very slight, pretty with soft brown hair and soft brown eyes.
"Cousin, come here. Our grandfather wishes thee."
Darah reluctantly glanced into Honor's eyes–at first like a frightened doe and then with something else Honor had never seen in her cousin before. Defiance?
Darah walked back and slipped past her into the room. "Grandfather?"
He studied his hands, now clutching the light blanket. "Honor, leave us. I wish to speak to Darah alone."
Why? Worry stirred. She ignored it. "And I must see to a few of our people who are ailing." Honor bowed her head and stepped outside, shutting the door. She went down the stairs to gather her medicine chest and later she must meet with the overseer. The plantation work could not be put aside because her grandfather's heart was failing. She tried to take a deep breath but the weight over her heart would not budge.
She hated to see her grandfather suffer and she hated to disappoint him. But her course had been set since she was a child. She shuttered her mind against the opposition she would stir up.
********
QUESTION: So did Honor's situation catch your interest? Have you ever had to disappoint someone you loved?–Lyn