Author Carrie Turanksy & The Young Single Mom She Most Admires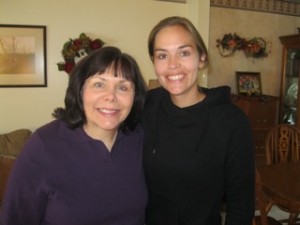 My guest today is Author Carrie Turansky (shown here with her daughter). She is offering a book giveaway and tells us about a young woman that she admires. Here's Carrie:
One strong, young woman that I deeply admire is Katie Davis, who lives in Uganda and has opened her heart and home to adopt fourteen daughters. With her deep love for God and her commitment to care for the least of these, some people think of her as a modern day Mother Theresa. I was deeply touched when read her book, Kisses from Katie. I have given copies to several friends who were also impressed by Katie's commitment to love and serve the people of Uganda.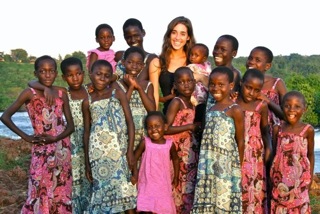 Katie didn't grow up with the idea of traveling to Africa and adopting so many children. She is a beautiful, talented girl from Tennessee who was raised in a loving family. She was senior class president and homecoming queen at her high school. As she thought about going off to college another dream formed in her heart, and she visited Uganda for the first time in December of 2006 when she was 18 years old. The culture and people immediately captivated her, and she made the decision to leave her life in the US behind and move to Uganda.
To learn more about Katie's amazing story pick up a copy of her book, Kisses From Katie, or visit her blog: http://kissesfromkatie.blogspot.com and her ministry website http://amazima.org.
I've always admired single mothers like Katie Davis. Parenting is a tough job for anyone, but doing it alone is even more challenging.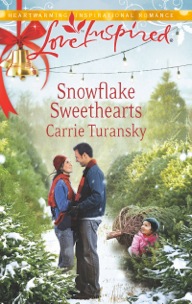 To purchase, click here. Snowflake Sweethearts (Love Inspired)
In my newest book Snowflake Sweethearts, the heroine Annie Romano is a single mother with a deep love for her five-year-old daughter Emma. She trains to become a personal chef so she can support her daughter and have a flexible schedule to be there when her daughter needs her. Providing a safe and happy childhood for Emma is a high priority for Annie, and that's one reason I think readers will be captivated by her story and cheer for her as they read Snowflake Sweethearts. This heartwarming, holiday story would make a great gift for anyone who enjoys inspirational romance.
For more information about Snowflake Sweethearts or any of my books, please stop by my website: www.carrieturansky.com. I also enjoy connecting with readers on Facebook, Twitter, and Pinterest.
I would be happy to give away a copy of Snowflake Sweethearts to someone who leaves a commen, and
answers this question: What is one thing you could do to encourage a single mother this Christmas season?
Thanks for inviting me to your blog, Lyn!"–Carrie
I'm always happy to have you, Carrie. I hope you all will drop by Katie's blog andlearn more about her mission! And leave an answer to Carrie's quesion."–Lyn
PS Deb B won Virginia Carmichael's Love Inspired. Congrats, Deb!