Author Jane Myers Perrine & The Strongest Women She Ever Met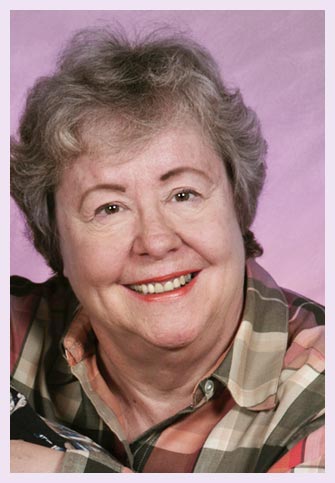 My guest today is Author Jane Myers Perrine. Her latest books have taken a turn toward Jan Karon's type of story–a small town of interesting and special characters. BE SURE TO LEAVE A COMMENT FOR THE BOOK GIVEWAY DRAWING. Here's Jane:
"The Strongest woman I've ever met was Hazel Myers, my father's younger sister.
My father was one of six children.  Their father died when they were all young.  One-hundred years ago, there were no safety nets.  All my grandfather left the family was a house he'd built.  No insurance, no company benefits for my grandmother to raise six children.
This was made even more difficult because Aunt Hazel had juvenile rheumatoid arthritis.   She couldn't go to school because all the buildings had many flights of stairs.  My grandmother Jennie—for whom I'm named—took a job cleaning a school so she could take her youngest daughter with her, but the cold concrete floor caused Aunt Hazel's joints to ache terribly.
But with no education, a body filled with pain, and twisted fingers, she taught herself to type.  For many years as an adult, she worked as secretary at the Christian church the family attended.
I never noticed her handicap.  She had an odd little battery-powered vehicle she used to get around:  a three-wheeler with a bench seat.  She used to take her nieces and nephews on rides around the neighborhood.  She lived a life of caring for others and optimism even while in terrible pain all of her life.
After her death in her fifties, my father gave me her Bible in which he'd written, "She bore her thorns in the flesh bravely."
When I want to complain about my back hurting or pain in my wrists from writing, I think of Hazel Myers.  She would have rejoiced to have a computer with soft keys instead of using a manual typewriter.
I never heard Aunt Hazel talk about her faith, but it shown from her every minute of her life and was the source of her strength.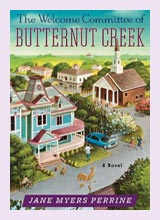 The Welcome Committee of Butternut Creek is the interwoven story of many people.  One of the heroines is Birdie MacDowell, a pillar of the church who helped found the thrift shop and the food pantry.  At nearly seventy, she's still working to support  her granddaughters.  She's weathered storms in her life:  the death of her husband, the addiction of her daughter, and the rearing of two girls from their births.   She endures and serves because she knows her strength comes from her faith."–Jane
Jane, it sounds to me like Hazel was the inspiration for your heroine, Birdie. (Love that name!)
Please leave a reply to this question to qualify for the book drawing.

Question: We have so many labor-saving devices today. Which one do you depend upon the most? Which one do you wish you could have "sent" into the past for your grandmother?–Lyn

facebook  Jane Myers Perrine