Author Ruth Axtell & Her Aunt Grace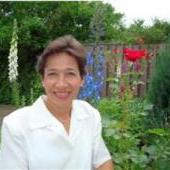 My guest author today is Ruth Axtell who is going to share the story of a special woman in her family. Here's Ruth:
"Grace Hopson Kissam—An Independent Woman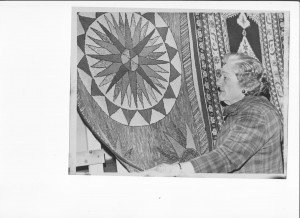 One of the women who most influenced my life, apart from my mother, was my great-aunt Grace. She was my paternal grandmother's half-sister (my great-grandfather having married three times—widowed twice). To me, she embodies a "strong woman." Although she married and was a wonderful homemaker, she never lost her own identity. She was a teacher, active in several community organizations and church, and independently minded.
Aunt Grace was born in 1893 in Bridgeport, Connecticut. At a time when few women were college educated, she and her sister both got a degree (at their father's insistence, who said they needed 'something to fall back on,' in case they were ever widowed). Aunt Grace went to normal school and became a schoolteacher. When I knew her, she had been teaching the mentally retarded for many years in one of Bridgeport's rougher neighborhoods.
She married late in life and always worked outside the home. During World War I, she drove an ambulance stateside. She never had children, but she was one of my favorite relatives, always patient, always had stories to tell, and so many things to teach my brothers and me. Her house was amazing, an old colonial she and her husband had restored and stocked with antiques. She knew so much about my father's side of the family. I think my love of history (and writing historical romances) stems in large part from her and my grandmother, who told me so much about my forefathers. (I wish now I had listened more carefully).
When I was a teenager, I began to spend summers with Aunt Grace, reading stacks of romances from a grocery bag full that she and her fellow hooked rug club members exchanged.
She died at the ripe old age of 91 shortly after I graduated from college. I know she would have been proud to know her great-niece became an author.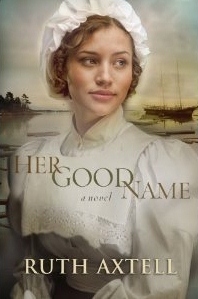 To purchase, click here. Her Good Name
My latest heroine, Espy Estrada, is a little like my aunt Grace in that she has a strong sense of self at a time when women were brought up to be extensions of their husbands. Espy wants to go places and be someone and even when things go against her, she never loses that inner self-confidence that she is someone who matters."–Ruth
For more about Ruth. Try her blog: ruthaxtell.blogspot.com
(BTW, Ruth formerly wrote under the name of Ruth Axtell Morren-FYI.)
I love hearing stories of women who have influenced their nieces and others. I had so many women who influenced me: Mrs. Brauck, my 1st Sunday school teacher, Betty Gray, the best boss I ever had and so many more. How about you?–Lyn
P S If you've enjoyed this story, please click below and share it on Facebook, Twitter, etc. TIA!