Lyn Reviews Dame Agatha Christies' MURDER ON THE ORIENT EXPRESS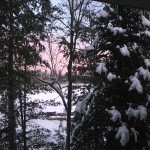 Murder on the Orient Express and Other Hercule Poirot Mysteries by Agatha Christie
My rating: 5 of 5 stars
I have been an avid Agatha Christie fan since –FOREVER. So this is not the first time I've read MURDER ON THE ORIENT EXPRESS. However, I never tire of Dame Agatha's intricate plots, her detective Hercule Poirot and the interesting locales she sometimes chooses for her mysteries. Of course, she was personally very acquainted with this train since she traveled on it many times with her archeologist husband. They've just made another movie of it, showing that people haven't tired of her story.
I'd like to take this opportunity to scold the BBC for messing with Dame Agatha's Jane Marple mysteries on Masterpiece Mystery. UGH UGH UGH. How dare they change the stories??? What demented scriptwriter thought he could change the beloved mysteries? I'd like to get the executive that made the DEPLORABLE decision in a room alone! (I must calm myself–getting heated here!)
Anyway don't watch the icky rewrites–I watched two and then started to gag. Joan Hickson did the last "honorable" productions of Miss Jane Marple, another of Agatha's detectives, my favorite.
So there you have my review and MY RANT!–:Lyn Cote
I DIDN'T READ THE LEATHERBOWUND version! This is the kindle version. Click the cover to purchase!
SaveSave
SaveSave
SaveSave