Lyn Reviews Kathryn Springer's The Bachelor's Perfect Match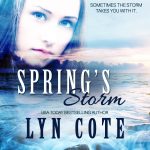 I am a friend of Kathryn Springer's but I started reading and loving her books before I met her! She writes a lovely book. Her books aren't non-stop thrillers but gentle sweet romances with characters that I immediately care about. The librarian heroine vs. the adventurous hero, laid up after an accident are wonderful believable characters.
I like that Kathryn brought 3 teens who needed help into the story–giving both the hero and heroine of the story a chance to show themselves in action. Too often Harlequin only wants LITTLE children in their books–why not teens? Especially since so many teens read Love Inspired Romances!
I loved the setting of the UP of MI–just north of my hometown. The author gave me a copy of her latest book, but this is my honest opinion!–Lyn Cote
CLICK THE COVER ABOVE TO PURCHASE–Lyn
SaveSave
SaveSave