Lyn Reviews Zara Keane' Dial P for Poison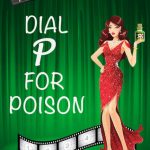 Dial P For Poison by Zara Keane
My rating: 4 of 5 stars
This is the first in the Movie Club Mysteries Series and the first Zara Keane book I'd read. WHAT FUN! I loved the heroine who is sassy and offbeat and very beliveable.
Maggie has just lost her snake of a husband and her job as a San Fran cop so she goes back to her father's village on Whisper Island, Ireland, to spend a few months recovering from the twin disappointments.
Her aunt Noreen welcomes her with open arms and immediately puts her to work in hre Movie Club cafe. Too bad Maggie can't cook or make coffee. However she does make a mean cocktail and unfortunatley her aunt's swon enemy dies of poison during the first movie club she bartends for.
So Maggie can't resist investigating and it's good she does because the Garda on the island is none too sharp!
FUN! FUN! FUN! I'd rate this as PG13 but I wasn't offended. I was entertained.
To purchase, click cover below. 99 cents for the ebook!
SaveSaveSaveSave