First Time Discount on TO LOVE SOMEBODY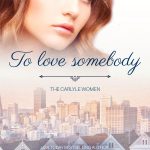 TO LOVE SOMEBODY has never been discounted before. It is part of my THE CARLYLE WOMEN series,
which follows 4 generations of women
 in a family saga of the 20th century.
 "History relived before your eyes. Gripping, Rich with History and Love."
Coming of age in 1960's and 70's, Leigh Sinclair faces all the challenges of that turbulent time—but falling for the wrong man brings Leigh consequences she never envisioned. She won't make the same mistake again.
Then one day the worst Leigh could imagine happens. Can the new man in her life help her avoid this ending in tragedy? If you enjoy authentic history with a strong female lead, then you'll relish this dramatic slice of history by an award-winning and USA Today best selling author.
The Carlyle Women-four generations, each facing the challenges of her time and each harboring her own painful secret~
What Readers Say:
"Like the other books in this series, Leigh's story is a time-capsule of the 60's and 70's. You are transported to the Tidal Basin in DC "right up front" at the Martin Luther King "I have a dream" rally…"
"To Love Somebody is an amazing story! Leigh Sinclair is a woman of her time, independent, passionate about the issues she believes in… It's an intense story with plenty of stirring events that showcase the turbulent time with the civil rights movement and the Vietnam War. It's a story that captures the time perfectly, and Leigh and the things that happen to her are a compelling story. I highly recommend it."
"Once again Lyn Cote handled the problems and fears of another generation of mothers and daughters fighting to do 'their own thing.'…Lyn Cote handles the angst that each generation feels as they battle to be 'heard.'"
If you subscribe to Kindle Umlimited, this book is free. But if not, it is on sale through Sunday the 20th for 99 cents and the $1.99 through Weds the 23rd.
This may be the only discout for a long time so take a look and make a decision fast!