May I introduce a good friend and outstanding author, Josie Riviera?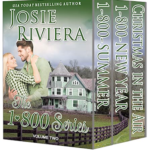 Hi! I'm Josie Riviera. I live in the Charlotte, NC, area with my wonderfully supportive husband. We share our home, an old house forever in need of renovations '-) with our adorable shih tzu, who constantly needs grooming! Both keep us busy. I'm a USA TODAY bestselling author of contemporary, inspirational, and historical sweet romances that read like Hallmark movies, I hope!
A question: have you ever tried something you were afraid to try because it mattered so much to you? I did that when I started writing. So take the chance, everyone, and just do something you love! 
Sign up for my newsletter on my website: http://josieriviera.com/  and get a FREE ebook.
My newest boxed set, The 1-800-Series Volume Two, includes three clean, wholesome, and cozy small-town romances.
The first book, "1-800-SUMMER," follows Belle Boots, an equine therapist, as she considers moving on from her current life until a man's offer changes everything.
The second book, "1-800-NEW YEAR," is a holiday love and romance story about Shanice Williams, who struggles to sell the old farmhouse she inherited from her grandmother, where she has fond memories with Lincoln Reid, her teenage crush.
The third book, "Christmas in the Air," is about Penelope Reid, a single mother in her late 40s, who meets an elusive, handsome stranger on a plane trip to Hilton Head Island and later discovers that he is the new pediatrician in town.
Each book in the set offers a chance at new beginnings, hope, and second chances for the characters and brim with joy.
Only $2.99 for a limited time and FREE on Kindle Unlimited. Click here to learn more or purchase!
Lyn here~I know you won't regret it!