Lyn Asks Adoption? Has it touched your life?
Before I get into our topic for the day, adoption, I want to let you know about my FREE EBOOK, Only Her Heart, one of my clean mystery romances. This special begins March 19th ad will end on Mar 23, Thursday at midnight. Here's the link to look it over and grab your copy. Why not tell a friend?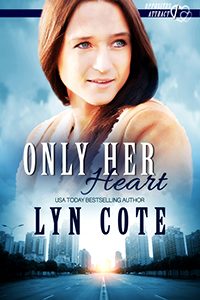 Now for the March Question:  Adoption? Has it touched your life?
I ask this because it is the thread that ties together the 4 books in my brand new series, "The Preacher's Daughters." Here's the scoop:
Three sisters with a mission to find their mother's birth family. 
Nearty two years ago their mother was diagnosed with leukemia. None of the three were a match for a possible bone marrow transplant. Even though their mom is now in remission, this left them feeling shaky. What if the leukemia came back? They need to widen the search for a genetic match. But their mom refuses to try to find her birth parents, feeling it's disloyal to her wonderful adoptive parents.
And in the midst of their quest, God has plans of his own for each sister (and a couple of cousins). Hannah, Abby, and Lucy each find themselves tested with circumstances that try their patience and faith. And each find that God's plan includes a love of their own.
So are you adopted? Did you adopt a child(ren)? Please share your experience. Commenters will be eligible for a random drawing for fee ebooks of Hannah's Hometown Hero-Lynr