Lyn's Limited Time Free Ebook!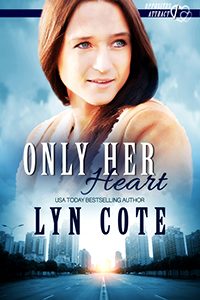 ONLY HER HEART Free on Kindle March 19 through 23! Click here for more info or to purchase.
What will it take for a clueless computer genius to notice the loving woman at the desk beside him? 
Unable to avoid her feelings for her boss, computer security expert Jack, Annie prepares to quit her job. But an unexpected phone call asking for help to stop a hacker who is endangering lives upends Jack's life. Before it's too late, can Jack stop the hacker and finally let God help him realize that Annie is a treasure who's been in front of him all along? From a Carol Award–winning author, a heart-warming, clean and wholesome mystery romance.
What Readers Say:
"When opposites attract things can get a bit crazy. A story that portrays life today with all its challenges. A sweet story of love and faith."
"I loved this story. Shed a few tears and a few smiles. Wonderful characters…both adults and children."
Why not tell a friend?–Lyn