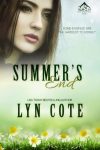 Kirsi Royston, M.D., made a promise to a whole town and now she must break it~How will small town Steadfast react?
About the Book
Kirsi Royston, M.D., made a promise to a whole town and now she must break it~How will small town Steadfast react?
Her nerves on edge, Kirsi arrives in Steadfast to begin practicing at the local clinic. Steadfast fundraisers helped pay her medical school expenses. In return, she contracted to practice medicine here for six years. But family responsibilities demand she return home to California. She must leave at summer's end. And a frightening incident from the recent past haunts her.
She meets Doug Erickson, M. D. at the clinic in the midst of  an emergency. Later she explains she's leaving. Though she promises she'll find a replacement, Doug is angry. Doctors who will practice in small rural towns are rare. His family started this clinic and have had three generations of doctors at the clinic. But his father died young and his 80-something grandfather deserves to retire. Doug can't carry the load at the clinic alone.
Still the two doctors must work together. Kirsi comes to admire Doug and love working with him. If only she didn't have to return home. On his part, Doug resists the growing connection he feels for Kirsi. She's not only abandoning him but the town too.  Will the local clinic survive to serve the town? 
In the midst of their conflict, meth use is surging in the county, poisoning students at the local high school. And is someone stalking Kirsi? Or is it just her imagination?
Summer's End is the story of two very good people, trying to please everyone but themselves. In the midst of the dangerous new situation in town, will they finally believe that they too have a right to fall in love?
For an exciting read, buy Summer's End today!
Readers say:
"Great characterization, an intriguing story line, this small town tale kept me guessing!" "Great story. Captures you right off. Didn't want to put it down." 
The series:
Winter's Secret Book 1, always free
Autumn's Shadow, Book 2
Summer's End Book 3
Spring's Storm Book 4
Mistletoe and Sage Book 5
Loving Winter Book 6
Welcome to Steadfast, WI, a small town whose people and mysteries you may never forget~

Other Books by Lyn in "Northern Intrigue"
Disclosure of Material Connection: Some of the links in the page above are "affiliate links." This means if you click on the link and purchase the item, I will receive an affiliate commission. I am disclosing this in accordance with the Federal Trade Commission's
16 CFR, Part 255
: "Guides Concerning the Use of Endorsements and Testimonials in Advertising."